First-of-its-Kind Surgery Performed in Montreal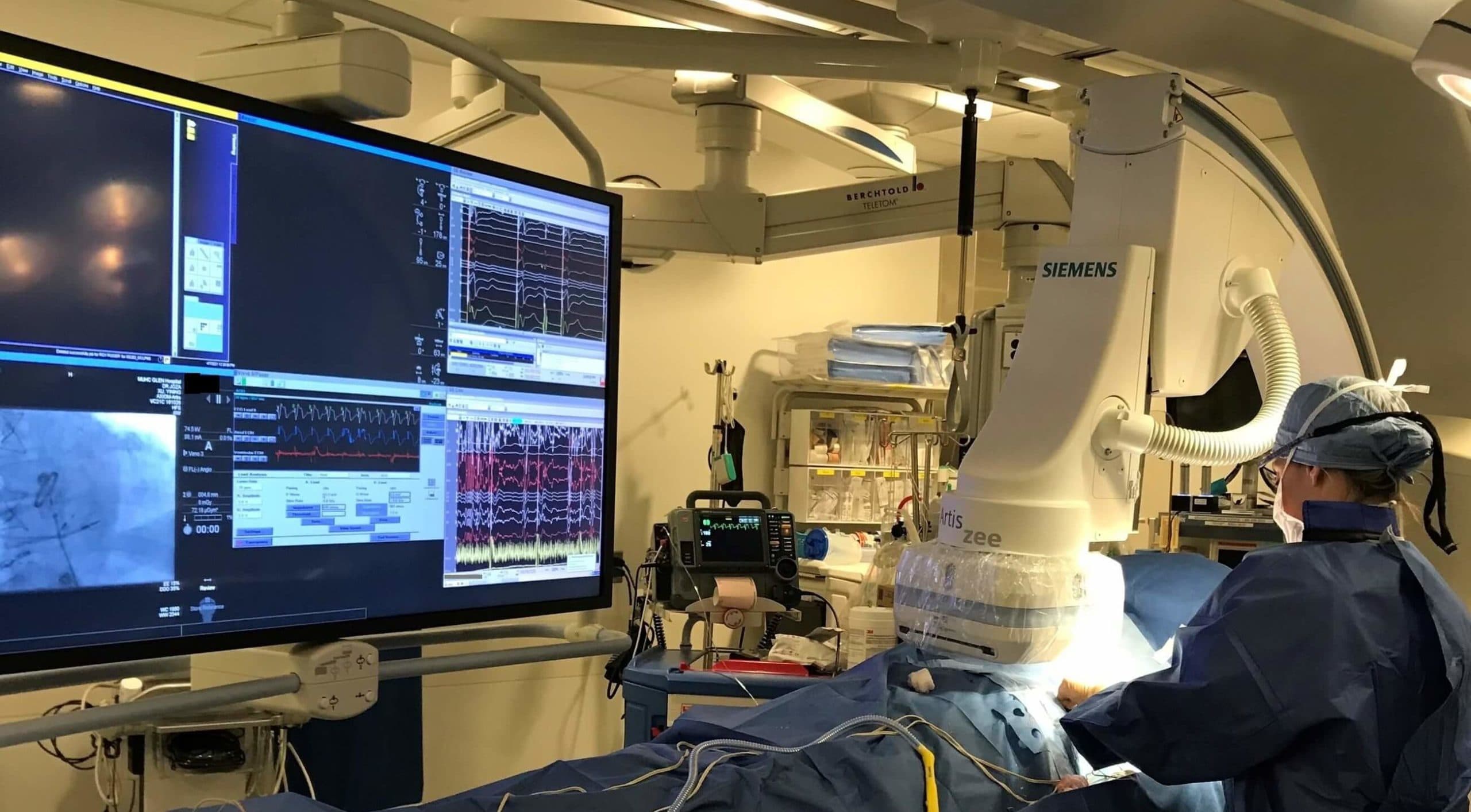 Dr. Jacqueline Joza is the first Canadian to program an implanted heart defibrillator remotely
This past spring, the McGill University Health Centre (MUHC) was the first hospital in Canada to perform a new surgery. Dr. Jacqueline Joza, cardiac electrophysiologist, led a procedure that involved programming an implanted heart defibrillator remotely. This new technique marks the beginning of a paradigm shift in medicine, in which advanced technology and care at a distance become a common part of medical practice.
"I'm really proud of our arrhythmia and electrophysiology service at the MUHC," says Dr. Joza. "We work really hard to ensure that our patients are receiving the best care possible and that they have access to new and innovative research and technology. It's a really exciting time for us."
Implanted defibrillators are special cardiac devices that are surgically implanted to prevent sudden death among people who have a high risk of life-threatening arrhythmia, a problem with the heart's rhythm. To implant the defibrillator, its wires are introduced into a vein and then advanced into the heart. The ends of these wires are attached to a battery that is implanted under the skin at the shoulder level. Although this procedure is not new, the ability to program the defibrillator from a distance is entirely new.
"Once the device is implanted, two things need to happen. First the wires need to be tested to ensure they are working properly. Second, the defibrillator needs to be programmed in a way that is personalized for the patient's condition," says Dr. Joza.
The defibrillator's programming can help the heart beat at a certain rate or give a beat when the heart is incapable of doing it by itself.
"We need to program the device in such a way that it will deliver the right type of therapy to treat the life-threatening arrhythmia. On April 7th, the MUHC was the first in Canada to test and program this device from a distance," says Dr. Joza.
Health Canada has approved only four programmers, all at the MUHC. The advantages of this new technology are myriad. During the COVID-19 pandemic, it means one fewer person in the operating room, reducing the risk of infection and saving PPE. It also has tremendous implications for maintaining the health of those living in rural and remote communities: patients with implanted defibrillators will eventually be able to have their cardiac devices reprogrammed without the need to travel to Montreal.
"Patients who are from Northern Quebec have to travel to Montreal to have their devices checked and re-programmed based on the ever-changing clinical need. Right now, it's a flight down to the city, it's quarantine for 2 weeks, then they have the device checked and programmed, and then they go back to their communities where they have to quarantine for another two weeks," says Dr. Joza.
Cardiac devices with complex programming will also be able to be installed without a specialist physically present. For instance, a device for a patient in Europe could be programmed by a specialist in Montreal.
"When I was describing this surgery to my mother-in-law, she said it's like when she calls Apple or Microsoft when she has trouble with her computer. Once permission is obtained, they are able to access her computer to change a setting or fix a problem. That's exactly what's happening with the defibrillator, except we're changing settings for a device that's actually in the patient's heart. It's an incredible feat," says Dr. Joza.
Electrophysiology is a specialized branch of cardiology that focuses on the electrical system of the heart. It is these electrical impulses that help the heart beat in perfect time—the "lub-dub" sound you hear when you put your ear to someone's chest. This electrical system can malfunction in a variety of ways, and electrophysiologists specialize in correcting these issues to ensure the health and safety of their patients.
"As an electrophysiologist, I can perform procedures that are lifesaving or improve a patient's quality of life. That is very gratifying," says Dr. Joza.
The MUHC Foundation is currently fundraising to create an Electrophysiology Centre of Excellence at the MUHC Glen site. This state-of-the-art laboratory will allow heart patients to receive lifesaving procedures on site and enable the MUHC's electrophysiologists to train the next generation of experts.
The Electrophysiology Lab is a priority of the MUHC Foundation's Dream Big. Fix Broken Hearts campaign, which is raising $50 million to ensure Montreal has the lowest rate of hospitalizations and deaths due to heart disease in Canada. Advanced technologies like remotely-programmed defibrillators are the future of medicine, and the MUHC Foundation is helping usher in the latest medical advancements.
Learn more at muhcfoundation.com/dream-big/cardiology.
An Innovative App Creating a Community for Eczema Patients