Bill's Story: A Life Transformed by a New Heart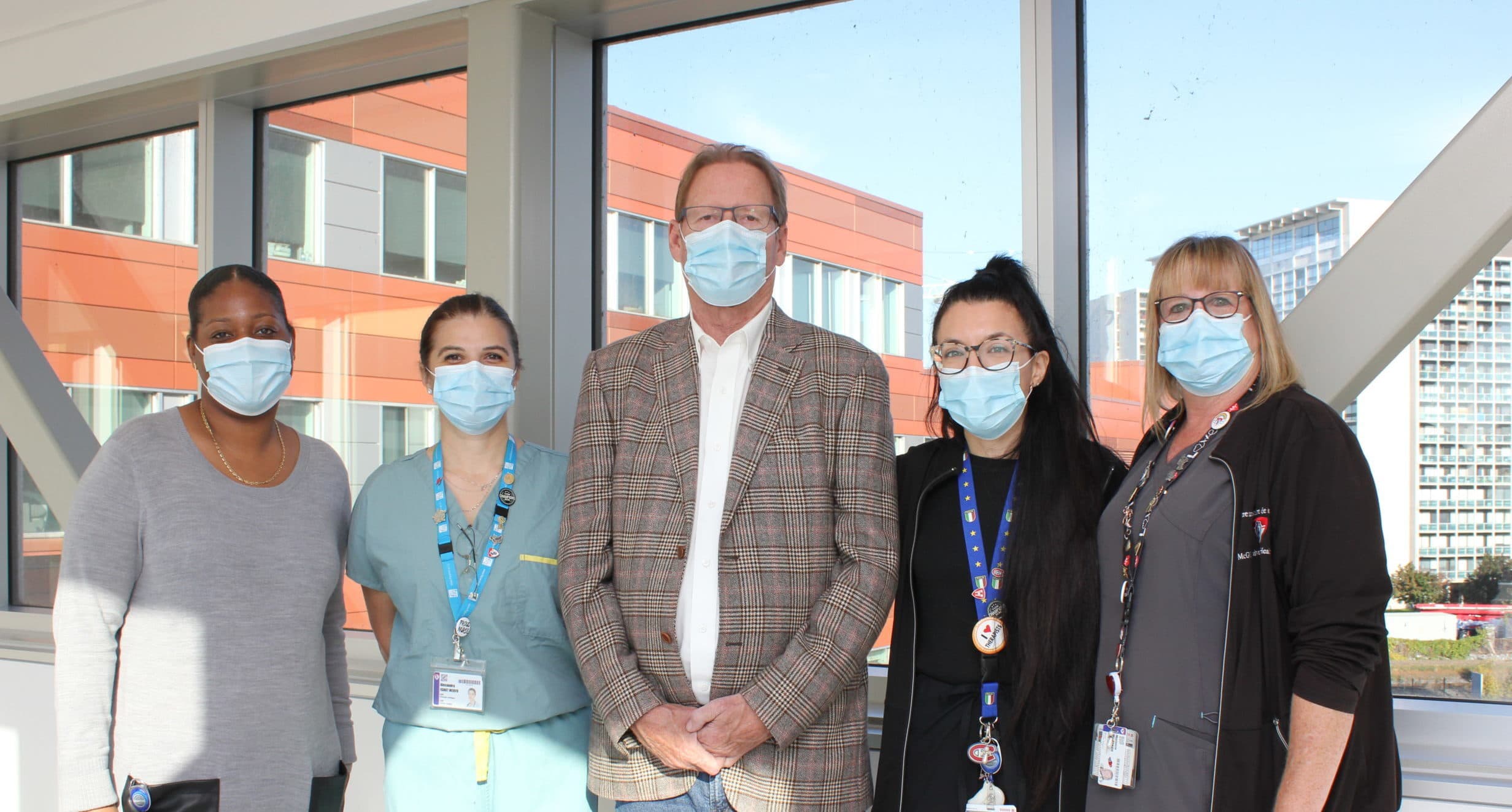 In 2019, Bill Hastings was fading away. 
After years of struggling with end-stage heart failure, everything was difficult for the 62-year-old. Breathing, moving, walking up a flight of stairs. Bill's heart was only working at 10 per cent capacity, even with a mechanical pump to keep it beating. He desperately needed a new heart to stay alive.
"The doctor said if I hadn't received my new heart by Christmas, I wouldn't have made it," says Bill.
Rewind to a decade earlier, and Bill was feeling unwell and visiting his cardiologist, Dr. Nadia Giannetti of the McGill University Health Centre (MUHC). Tests revealed that his heart was only functioning at only 20 percent of its normal level—he was in heart failure.
"Dr. Giannetti told me that we had to put in a mechanical heart," says Bill.
A mechanical heart is an implanted device that pumps blood out of the heart and into the rest of the body. They are implanted when a patient's heart can no longer pump blood effectively on its own. The implantation of a mechanical heart is no small feat, and Bill recalls a long recovery.
"I was in the hospital for six weeks after the operation. It felt like putting a square peg in a round hole," says Bill.
Despite the challenges of his recovery, Bill is quick to recall the compassionate care he received from his health care team. He got to know each of his doctors, nurses and orderlies well, and they were always there when he needed them.
"The staff were so kind. I remember one of the nurses was leaving for the night and came into my room to check on me before she left. She noticed my IV was infected and redid it even though she was off work," says Bill.
Though the mechanical heart helped Bill considerably, it was a temporary solution: he needed a new heart. He was put on the waiting list, and was in and out of the hospital with various complications related to his heart condition.
After five long years, in 2019, a donor heart came available.
"Dr. Giannetti told me that we had to find a heart or I would die. And she did," says Bill. "It was really emotional to learn that I would finally get a new heart."
Bill's care team were relieved when the news of a donor heart came in. They had been caring for Bill for years, and seeing him receive the heart that would save his life was an emotional experience for them as well.
"I was there the day he found out he was getting his heart and I just bawled," says nurse Melanie McKenzie. "I went into his room and I cried. We cried."
Bill recalls being wheeled into the operating room on a warm bed. The surgical team put on his favourite music, and Bill drifted off to the sound of Willy Nelson and Ray Charles singing "Seven Spanish Angels."
Only eight days after his heart transplant, Bill walked out of the hospital on his own two feet.
"When it was time to leave the hospital, I was offered a wheelchair. I said no. I walked in, and I was going to walk out," says Bill.
Once unable to even walk up a flight of stairs, Bill is now able to run, swim and golf. He recently became a grandfather, something he may never have experienced without his donated heart and the expert care of his health care team at the MUHC.
"The care team was just unbelievable. Everyone. Now, when I walk into the hospital, I feel so comfortable there. I am so grateful to my nurses Millie Firmin and Melanie McKenzie, my physiotherapist Angela Di Girolamo, my star surgeon Dr. Renzo Cecere, and of course Dr. Giannetti. She is so special." says Bill.
Bill is also quick to emphasize his gratitude to his family.
"I am so grateful to my wife Alison and my three sons Garland, Liam and Myles for their endless love and support," says Bill.
Cardiovascular disease is one of the most common conditions among Canadians, and over 650,000 Canadians live with heart failure. The MUHC Foundation is raising $50 million through its Dream Big: Fix Broken Hearts campaign to ensure fewer people die from this terrible disease. The campaign is supporting expert cardiologists at the MUHC, who are conducting research to uncover the causes of heart disease and learn how to prevent it. The Courtois Cardiovascular Signature Program, led by Dr. Nadia Giannetti and launched in 2020, is a 10-year study that will examine every aspect of a patient's health to understand why cardiovascular disease develops.
The Courtois Cardiovascular Signature Program is possible thanks to a transformative $18 million donation from the Courtois Foundation. To learn more about the study and to donate to the MUHC Foundation to help us Fix Broken Hearts for patients like Bill, visit https://muhcfoundation.com/dream-big/cardiology/.
Top 5 Nutrition Tips for Breast Cancer Patients During the Holidays