Young Woman's Wish Granted by Generous Donors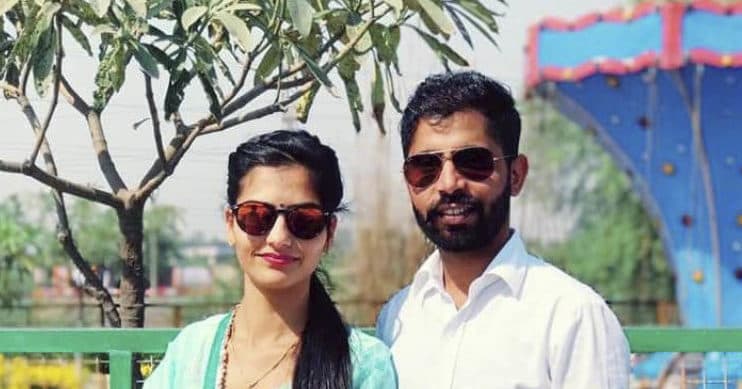 When Kirandeep Kaur was diagnosed with terminal cancer, donors to the MUHC Foundation stepped up to send her home
Kirandeep Kaur came to Canada to study business. A strong and determined young woman, she and her husband Baljeet Singh Sidhu left their family in India to begin a life together in Canada. Their story is a hopeful one that many can relate to: immigrating to a new country to find new opportunities. But Kirandeep and Baljeet's dream was not to be.
In December 2020, Kirandeep began to have abdominal pain. She was admitted to the McGill University Health Centre (MUHC), where scans revealed she had cancer. This was not Kirandeep's first experience with cancer: she was successfully treated for ovarian cancer in India. With that terrible ordeal behind her, Kirandeep arrived in Montreal in 2019 to study to become a financial analyst. But the cancer came back.
"It wasn't just like the disease came back a little bit," says surgical oncologist Dr. Sinziana Dumitra, who cared for Kirandeep. "It came back with a vengeance."
Diagnosed with an aggressive form of appendiceal cancer that had spread to her lymph nodes, Kirandeep's best laid plans came crashing down. Despite the chemotherapy, she was admitted to the MUHC multiple times with complications caused by the cancer. It was Dr. Dumitra who saw her each time, and who realized there was nothing more anyone could do to save her.

"I took over her care, and it was clear that she wasn't going to be able to leave the hospital," says Dr. Dumitra.
Dr. Dumitra had to tell a 25-year-old that she was dying.
Realizing that she would die half a world away from her family, Kirandeep was determined to go home to India. But the odds were stacked against her: the trip is not just a 14-hour flight to Delhi, but another 8 hours by train to Punjab. The medical team was unsure whether she would survive the trip.
"We were faced with the impossible," says Sara Yassa, Assistant Nurse Manager. "Yet we were working with all that we could."
Deeply affected by Kirandeep's situation, the MUHC surgical oncology team looked at every option to send her home. Kirandeep was too weak to travel alone, and transport by air ambulance was prohibitively expensive. "There was a lot of distress from the nursing team and medical team about Kirandeep's safety and wellbeing. She was so strong and brave to make the voyage to be with her family despite how sick she was. Together, we developed a plan to get her home, however we were left with many concerns and limitations," says Celia Lombardo, Assistant Nurse Manager.
Determined to provide whatever solace she could to Kirandeep, Dr. Dumitra called the MUHC Foundation to ask for help.
"Life is not supposed to turn out that way for a 25-year-old," says Dr. Dumitra. "My parents were immigrants, and I could imagine, if this were to happen to my mom, how she would feel. That's what got me. What if this was my mom?"
It was Friday night when MUHC Foundation President and CEO Julie Quenneville got the call.
"When I heard Kirandeep's story, I knew we had to help," says Quenneville. "To lose someone so young and to be unable to grant her final wish is a tragedy. I was sure we could find donors as moved by the story as I was."
She called Mark Smith, and France Chrétien and André Desmarais, all loyal donors to the MUHC Foundation. When they heard Kirandeep's heartbreaking story, they quickly took action. They not only donated the funds for Kirandeep to return home, but organized the entire journey. Kirandeep was flown to Toronto on a private jet, where she would board a flight to Delhi. A rush visa was secured for the nurse who would accompany her. They even arranged the 8-hour journey from Delhi to Kirandeep's hometown in Punjab.
"Dr. Dumitra called the MUHC Foundation, and they said 'we're going to do this.' Within hours they called back and had a donor. It was snowballing and it was so positive. We couldn't believe it was happening," says Lombardo.
Dr. Dumitra called on a Friday night, and by Tuesday, Kirandeep was home.
"It was a miracle," says Baljeet, Kirandeep's husband. "I thank the people who helped us from the bottom of my heart."
With Kirandeep safely home, the surgical oncology team breathed a collective sigh of relief. Each and every one of them had been touched by Kirandeep's plight.
"If the Foundation wasn't there, we probably would not have been able to do any of this. I'm so grateful for the support of Mark, France and André. They made her illness something that is bearable," says Dr. Dumitra.
The MUHC Foundation recognizes the outstanding staff of MUHC inpatient unit C10 for their dedication in caring for Kirandeep, and their determination to find a way to send her home. To every member of the care team, and to the generous donors who made this miracle happen, we are incredibly grateful.
Story Featured on CTV News Montreal
Get our latest news in your inbox!
Subscribe!
MUHC FOUNDATION
$50K to DOvEE Honours the Memory of Ronda Green