Specialized lung clinic offers compassionate care to Montrealers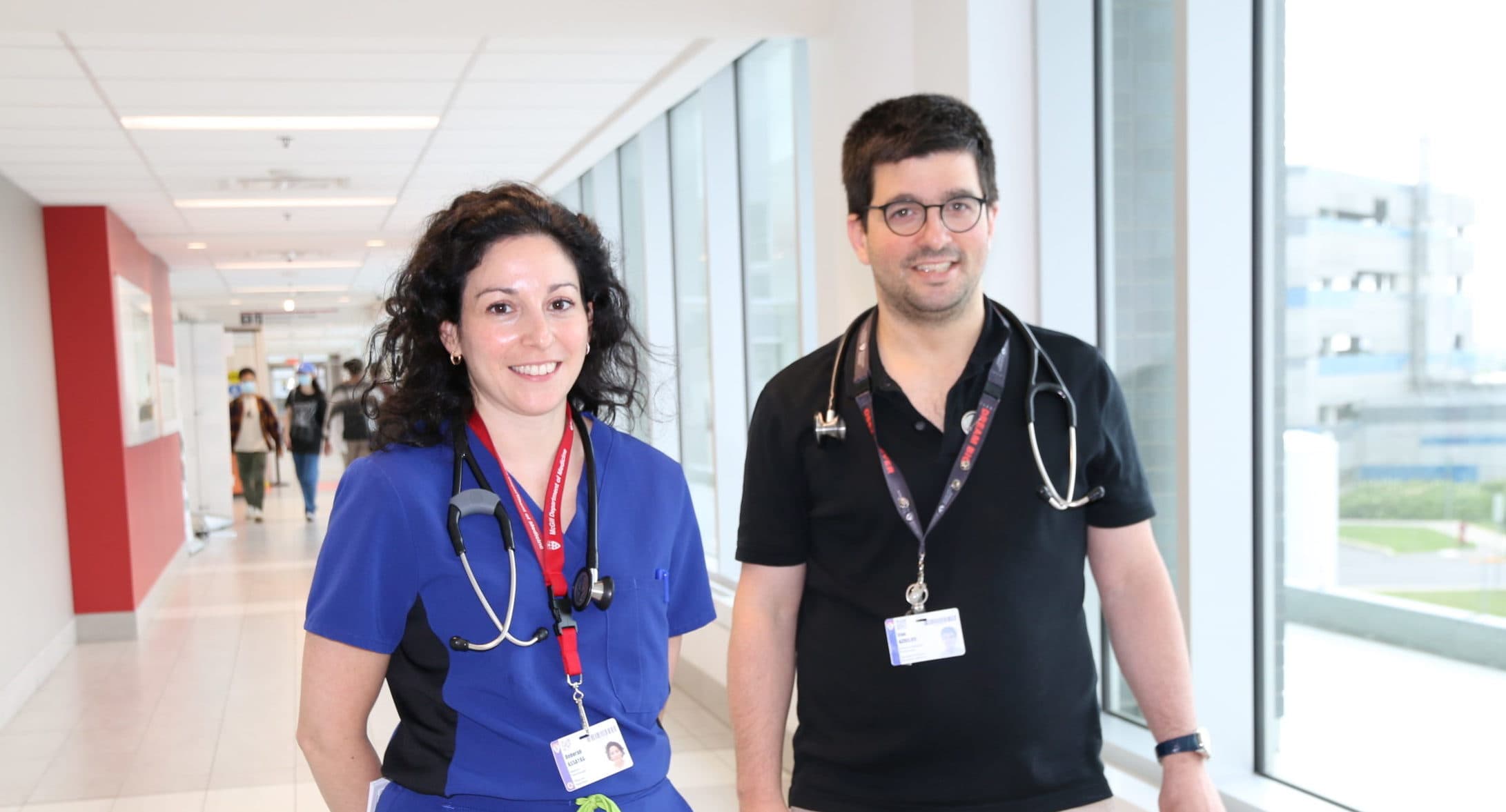 For Ian MacKinnon, it all started with a case of pneumonia. He had a deep cough that he couldn't shake. From them on, he dealt with various lung problems, including bronchitis, for a decade.
"Every autumn, my persistent cough seemed to get worse. Before I knew it, I could no longer do the things I loved," says Ian.
Finally referred to a specialist, Ian learned that his unexplained illness had a name: interstitial lung disease (ILD). ILD is a group of diseases characterized by inflammation and scarring of the lung tissue. It has numerous causes, from asbestos exposure to autoimmune disease, or sometimes, no known cause at all. Ian's case is idiopathic, meaning it arose spontaneously.
"We don't know why I developed pulmonary fibrosis, but I do know that my doctors are doing everything they can to give me a good quality of life," says Ian.
As ILD progresses, the lungs become more and more damaged, and each breath becomes more difficult. Patients lose their ability to do everyday tasks because they are unable to catch their breath. The damage is irreversible, and most patients don't live more than a decade after they are diagnosed.
"Interstitial lung diseases are progressive—they get worse over time. There's treatment that can slow down the disease, but there really is no cure," says Dr. Deborah Assayag, physician-scientist and ILD expert at the McGill University Health Centre (MUHC).
Ian is a patient of the Interstitial Lung Disease Clinic at the Montreal Chest Institute (MCI), part of the MUHC. This specialized clinic provides expert and compassionate care to ensure patients living with ILD are comfortable and can enjoy their remaining years.
"My doctors treat me with so much compassion, and if I ever need anything, the clinic's nurses are just an email away. I couldn't wish for better care than that," says Ian.
Since ILD has no cure, the goal of the ILD Clinic is to provide the best quality of life possible for their patients. When a patient is referred to the ILD Clinic, Drs. Deborah Assayag, Ilan Azuelos and Maxime Cormier apply their expertise in finding the right treatment plan. They begin by looking for clues that allow them to understand each individual's illness: interviews, blood tests, CT scans and lung function.
"Our objective is to help our patients enjoy life, do the activities they love, and spend as much time as possible with loved ones," says Dr. Ilan Azuelos, physician-scientist and ILD expert.
Patients see dieticians for nutrition support, physiotherapists to improve their capacity to remain active, nurses for education about their condition, and respiratory therapists to help them breathe easier.
"Though very sad, I find it gratifying to be able to be a resource for my patients and accompany them throughout the stages of the disease all the way to the end," says Dr. Assayag.
Once considered rare, cases of ILD are on the rise due to our aging population. This is worsened by the COVID-19 pandemic: serious cases of COVID-19 sometimes develop into ILD.
"Some people with very severe cases of COVID end up with very scarred, fibrotic lungs," says Dr. Assayag. "It's much like what we see in the end stages of ILD."
Before his diagnosis, Ian was a golf course mechanic and welder. He loved to be outside on the greens and in his own garden at home. Today, just walking to the bathroom leaves him winded, but he has faith in the expert care he receives at the MUHC.
"It's difficult, but I have to stay positive and take things one day at a time," says Ian.
Ian and his family are hopeful that, in the future, ILD will have a cure. Today, the closest we can get is a lung transplant, but few are eligible for the procedure because of the risks involved, and a match is not always found.
Interstitial Lung Disease may have no cure, but thanks to the ILD Clinic at the MUHC, patients are living longer and enjoying the time they have. With a donation to the MUHC Foundation, you can help the ILD Clinic's dedicated physicians continue to provide outstanding care to their patients. Your support will hire frontline personnel, purchase equipment and help increase the capacity of life-changing rehabilitation programs. To learn more and to donate, visit https://muhcfoundation.com/dream-big/respiratory/ild-clinic/
Montreal Entrepreneur Buys 5,000 Lunches for MUHC Employees