Meet Dr. Ben Geboe, the New Dr. Margaret Becklake Fellow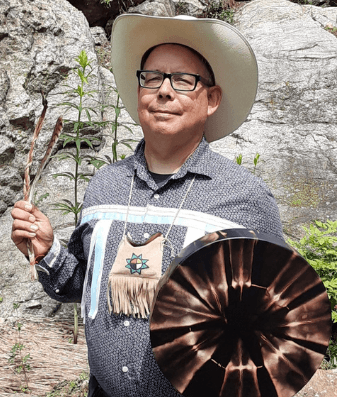 Dr. Geboe wants to ensure better health for Indigenous peoples across the country and beyond.
Ben Geboe has dedicated his life to bettering the lives of Indigenous peoples.
A member of the Yankton Sioux Tribe of South Dakota, he has experienced first-hand the inequities and injustices faced by Indigenous peoples in Canada and the United States.
"I've spent a large amount of my career in New York City helping Indigenous community members through the American Indian Community House. I also work with the Montreal Native Friendship Centre and women's shelter," says Ben.
A social worker and recent graduate of the PhD program at the McGill School of Social Work, Ben is the newest recipient of the Montreal Chest Institute's (MCI) Dr. Margaret Becklake Fellowship. Named for one of Montreal's pioneers of respiratory medicine, the fellowship honours Dr. Becklake's legacy by supporting the research and training of up-and-coming respiratory scientists from an Indigenous community, or low- or middle-income country.
Ben is passionate about preventing the spread of tuberculosis in Indigenous communities and amongst health care workers.
"Tuberculosis is an unacceptable epidemic. It's a biblical disease that is thriving now. TB in Canada among Indigenous communities is 400 times the rate of what it is in Canada amongst other groups. It's a very serious issue," says Ben.
Tuberculosis is a bacterial disease of the lungs that has affected humanity for millennia. The burden of the disease on Indigenous communities is what inspired Ben to apply for the Dr. Margaret Becklake Fellowship. His connection to the crisis is personal.
"My family members have been put in sanatoriums in the US and Canada for tuberculosis. Even though it's preventable and treatable, there is a lot of historical weight for Indigenous peoples that adds to the emergency feeling of it," says Ben.
Ben himself had a close call with tuberculosis: he was exposed to the disease while working with a community member in New York. He did not become infected, but the incident led him to consider the importance of not only helping people living with TB, but also protecting health care workers who care for these individuals.
"COVID has helped us recognize the importance of having protocols in place to prevent the spread of disease and protect others. I hope that this new awareness will help create a better response to preventing the spread of tuberculosis," says Ben.
Ben's passions come together to form his research project as the Dr. Margaret Becklake Fellow. Under the supervision of McGill University Health Centre (MUHC) respirologist Dr. Faiz Ahmad Khan, Ben will help connect Indigenous community members in Montreal to the services they require to maintain good health, as well as bring together the city's Indigenous community with health care professionals to ensure they have a voice in the decisions being made about their health care.
"I hope to use the fellowship to bring forward those voices that probably would not make it to the table because they're living on the streets or they're just not accessible unless you're from their community," says Ben.
He will also organize cultural safety training for health care providers in Northern communities to ensure respectful two-way communication between Indigenous communities and health care providers of all backgrounds. Through this work, he hopes to ensure better care and reduced spread of tuberculosis and other infectious diseases among Indigenous peoples.
In addition to his research and community work, Ben is a member of Indigenous Access McGill (IAM), a support program for First Nations, Inuit and Métis students in the McGill School of Social Work. He is also part of the Stop TB Canada Network and the International Indigenous Peoples' Working Group on HIV and AIDS. He is very active in the Indigenous community across Montreal, and recently took up the cultural practice of drumming at First Peoples' House at McGill.
"The drum is central to being connected to my cultural and spiritual history. It's the heartbeat of the nation," says Ben.
Ben begins his fellowship with dreams to disrupt the social determinants of health (non-medical factors that affect health), prevent the spread of tuberculosis and create a community-empowered response to containing the TB epidemic. Overall, he wants to ensure better health for Indigenous peoples across the country and beyond. He is grateful to the donors who made the Dr. Margaret Becklake Fellowship and his project a reality.
Beloved MUHC breast cancer surgeon pledges to shave his head