Beloved MUHC breast cancer surgeon pledges to shave his head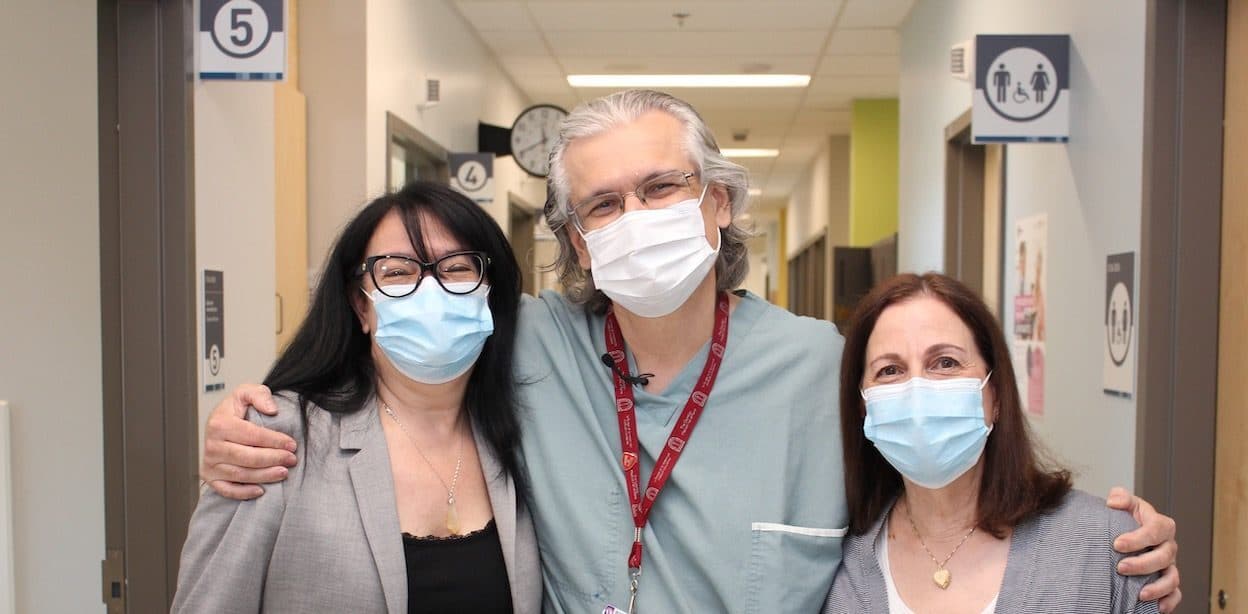 Dr. Sarkis Meterissian is dyeing his long hair pink and then shaving it off to raise money for the Breast Clinic Wellness Program.
Breast cancer surgeon Dr. Sarkis Meterissian is shaving his head to better the lives of his patients. But first, he will dye his long gray hair pink, all in the name of supporting the Breast Clinic Wellness Program at the McGill University Health Centre (MUHC). Dr. Meterissian is raising $200,000 as part of Raise Craze, an annual fundraising event for breast cancer. During the month of October—Breast Cancer Awareness Month—Avon Foundation for Women Canada will be matching all donations to Dr. Meterissian's campaign up to $100,000, for a potential grand total of $300,000 in support of the Wellness Program.
Dr. Meterissian is a surgical oncologist, cancer researcher and Director of the Breast Cancer Clinic at the McGill University Health Centre (MUHC). He is a passionate advocate for whole-person care, and created the MUHC Breast Clinic's Wellness Program in 2012 to ensure his clinic was treating the whole patient, not just the cancer.
The Breast Clinic Wellness Program offers a range of services specially designed to support women throughout their breast cancer journey. Through the program, patients have access to a five-session series introducing them to their physicians, the Breast Cancer Clinic and the many resources available to them. They also have access to a psychologist to help them cope with their diagnosis; nutritionists to provide personalized meal advice; exercise physiologists to help patients stay fit and active during treatment; and a sex therapist to address issues with intimacy and body image.
The Breast Clinic Wellness Program, which is entirely donor funded, helps women living with breast cancer not only survive, but thrive.
We sat down with Dr. Meterissian to talk about his decision to shave his head.
Q: What inspired you to fundraise and shave your head for Raise Craze?
A: The Wellness Program relies completely on donor funding—the program would not exist without it. Because of COVID-19, we have been unable to have fundraising events, and that put the program at risk. The Wellness Program is such an important part of the breast cancer journey—it helps our patients live full lives after breast cancer. I knew I needed to do something to keep the doors open. Pink in the City hosts its Raise Craze event every year, and I decided that it was time I participated. I am shaving my head to ensure the continuance of the Wellness Program, and more importantly, to support my patients.
Q: You have raised over $100,000 so far—how does that make you feel?
A: It's going really well and I'm really happy. People are excited in the hospital. My posters are everywhere and people are wearing t-shirts with my face on them. Deep down I'm hoping to surpass my goal.
Q: Tell us a bit about the support you have received for your Raise Craze campaign.
A: My patients recognize the symbolic nature of what I'm doing, and they seem pretty impressed that a doctor would shave their head. I didn't expect that. For me, it was more pragmatic: I wanted to raise money. But the number one thing my patients ask when they are diagnosed is "will I lose my hair?" and it's very emotional for them when they lose their hair. I think the symbolic nature of what I'm doing has really resonated with people.
Q: You are an advocate for patient-centred care. Why is it so important to you?
A: We've made tremendous advances over the last 25 years in cancer treatment and particularly breast cancer treatment, but we don't often pay as much attention to the rest of the patient, apart from their cancer. In other words, their mental health, their physical health, their sexual health. Especially with breast cancer, there are so many other issues that disrupt the patients' lives. Dieticians and personal trainers are expensive, and not all our patients can afford their fees. With the Wellness Program, our patients get this care for free. I'm grateful to the MUHC Foundation for supporting us as we built our program. It's very important for our patients' well-being.
Q: What is your big dream for the Breast Clinic Wellness Program going forward?
A: It's very difficult to raise money every year. My dream is that someone would make a donation that will fund the entire program in perpetuity. An endowment could do that. With a big enough donation, the Wellness Program could survive on the interest alone. I love the fundraising events, they raise interest in the community, but I hope that during my tenure we receive the gift that will guarantee the future of the Wellness Program.
Dr. Meterissian will dye his hair pink on October 19th, followed by a public shave on October 20th at the McGill University Health Centre.
Until October 31st, your gift will have double the impact thanks to a generous matching gift from Avon Foundation for Women Canada. Learn more and donate today at https://muhcf.akaraisin.com/ui/raisecraze2021
Raise Craze is an annual fundraising event held by breast cancer charity Pink in the City.
Maria Della Posta: supporting and attracting top talent to the muhc