MCI Recruits Leading Interstitial Lung Diseases (ILD) Specialist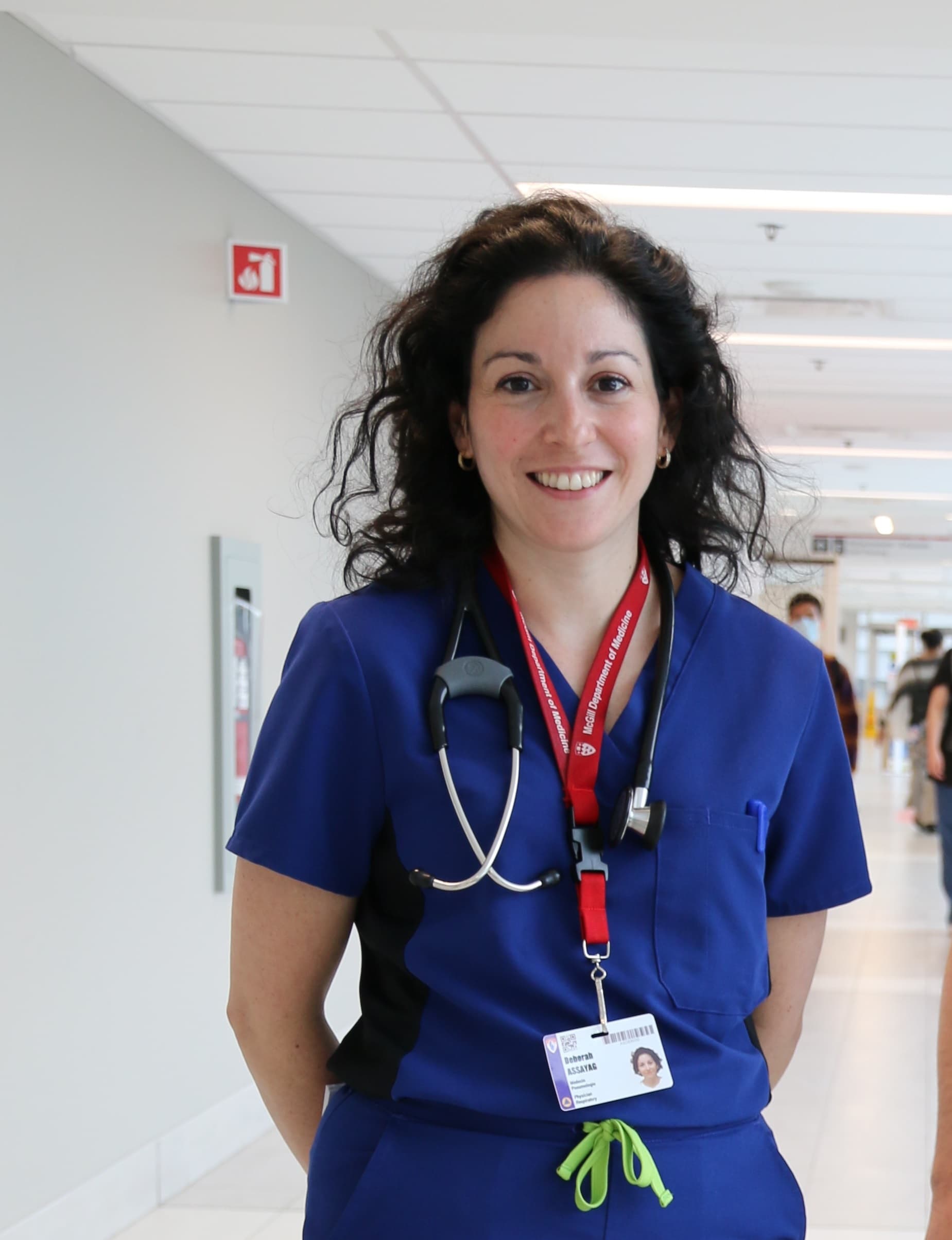 Playing detective is one of the things Dr. Deborah Assayag really likes about her job. The respirologist, who will be joining the team at the Montreal Chest Institute (MCI) of the McGill University Health Centre (MUHC) in July, specializes in the treatment of interstitial lung diseases (ILD), a group of difficult to diagnose pulmonary diseases that cause scarring (fibrosis) and/or inflammation of the lungs.
"I am a bit like Sherlock Holmes. When I meet patients for the first time, I ask a lot of questions and take a very thorough medical history. I ask about their jobs, their medications, even their hobbies. My goal is to figure out the cause of their breathing difficulties to determine if they have ILD, and what type of ILD they have," says Dr. Assayag.
"We are very pleased Dr. Assayag is joining the MCI and MUHC team. Her expertise in the field of ILD diagnosis and care will be highly beneficial to our patients," says Dr. Kevin Schwartzman, Director, Respiratory Division, MUHC. "Because most ILDs are rare, our patients need to be seen by experts in the field. Dr. Assayag will lead a fully-staffed clinic with a highly specialized team."
CAUSES OF ILD ARE MANY AND VARIED; AN ACCURATE DIAGNOSIS IS TRICKY
ILD is the umbrella term for over 100 different lung disorders, most of which cause progressive lung damage. Approximately, 15 per cent of all patients seen by respirologists (lung specialists) have ILD. The damage to the lungs eventually affects a patient's ability to breathe and get enough oxygen into the bloodstream, which in turn deprives the brain and other organs of oxygen. In most cases, the condition is progressive and irreversible which means shortness of breath increases. Thankfully today, there are medications that can slow the damage of ILD, but many people will never regain full use of their lungs.
The causes of ILD are many and varied. It can be caused by long-term exposure to hazardous materials, such as asbestos and other dusts. As well, some autoimmune diseases, such as rheumatoid arthritis, can also cause ILD. In many cases, however, the exact cause is a mystery.
HIGHLY SPECIALIZED ILD CLINIC TO PROVIDE EXPERT CARE
In her new role at the MCI, Dr. Assayag, an assistant professor in the McGill Department of Medicine, will open a specialized ILD clinic able to follow over 300 patients annually at the Montreal General Hospital (MGH) and MCI (Glen) sites. The MUHC ILD Clinic will bring together a team of respirologists, nurses and allied health professionals dedicated to providing comprehensive, specialized clinical care, patient education, pulmonary function testing, medication management, oxygen therapy and exercise therapy to those living with ILD. To ensure an accurate diagnosis and optimal outcomes, Dr. Assayag will also establish a multidisciplinary ILD meeting, which will gather respirologists, radiologists, pathologists, rheumatologists and nurses to review patient profiles and test results. This type of meeting is the gold standard for ILD.
Dr. Assayag also plans to create a patient registry to collect standardised information on patients' diagnosis, treatment protocols and outcomes. The registry will help improve patient care, professional development and research and ultimately improve patient outcomes. In addition, Dr. Assayag will apply to have the clinic participate in clinical trials testing new drugs and treatment protocols.
"I am looking forward to joining the team at the MCI and the MUHC. This is an exciting time to be an ILD specialist as two new medications recently came on the market and several more are in the pipeline," she says. "Living with ILD is incredibly challenging for patients, but today there is a lot more research being done in this field. It is a very hopeful time."
MCI: Dedicated Staff With Big Hearts