Dr. Nadia Giannetti is changing Cardiology for the better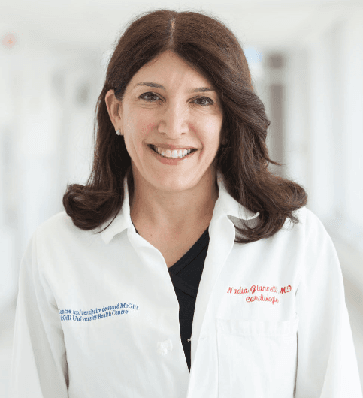 Dr. Nadia Giannetti was the honouree of the MUHC Foundation's Le Bal Rouge 2020 gala, which raised over $730,000 despite being cancelled due to the pandemic
Dr. Nadia Giannetti is changing cardiology for the better.
An expert in heart failure and transplantation, her work has touched thousands of lives. As a clinician, she cares for patients before and after their heart transplants. As a scientist, she is exploring new ways to measure risk for cardiovascular disease and personalize medicine. This only scratches the surface of her impactful career.
In 2020, the MUHC Foundation chose to honour Dr. Giannetti and her contributions to cardiology, medicine and the health of our community at its Le Bal Rouge gala. Though the event was cancelled due to the COVID-19 pandemic, it raised over $730,000 to support cardiology research and care at the MUHC and Fix Broken Hearts.
"Dr. Giannetti has transformed cardiology research and care at the MUHC through recruitment of outstanding clinical scientists to the Division of Cardiology. Her passion for patient care has made her a favourite among her patients, and her drive to understand the reasons behind cardiovascular disease is producing ground-breaking research that will ultimately save more lives. The MUHC Foundation is proud to honour her illustrious career," says Julie Quenneville, President and CEO of the MUHC Foundation.
From 2010 to 2021, Dr. Giannetti was Chief of Cardiology at the MUHC. During her tenure, she had the opportunity to shape the division into the powerhouse of talented cardiologists it is today. The many gifts contributed through Le Bal Rouge honour the legacy of excellence she has created.
As we prepare to host our first in-person gala in three years, we look back at our last honouree. Dr. Giannetti is now Associate Physician-in-Chief in the Department of Medicine at the MUHC and Program Director of the Courtois Cardiovascular Signature Program. She also continues to see patients, conducts research, and fulfills teaching duties in both the clinic and the classroom as an Associate Professor at McGill University. We sat down with Dr. Giannetti to learn more about her fascinating and impactful career.
MUHCF: What inspired you to become a physician?
NG: I wanted to become a physician from a young age. My mother was a laboratory technician in a hospital for a few years, so I heard a lot about the great need for patient care. There was never a second choice. It was always what I wanted to do.
MUHCF: What got you interested in cardiology, and in heart transplantation in particular?
NG: Working with heart transplant patients is probably the most satisfying medical intervention that one can do in cardiology. You take care of patients before their transplant, when they're really critically ill. Some are bedridden and some have mechanical hearts. They have a very poor quality of life. When they get their transplant, they are transformed. There are very few things in medicine like it. Post-transplant, we have patients who are running marathons, patients who return to work and lead normal lives. The transformation they go through is unlike anything else one can experience as a physician, and it is so rewarding.
MUHCF: What would you say has been the highlight of your career so far?
NG: The highlight of my career was to be Chief of Cardiology at the MUHC. I had the chance to work with a great group of colleagues and to recruit really high-level experts to join the team. The people I recruited are having a big impact on heart health and the field of cardiology. It's something I'm really proud of.
MUHCF: You are now director of the Courtois Cardiovascular Signature Program. What excites you about this project?
NG: We are trying to understand why people develop heart disease. There are obvious risk factors like smoking, diabetes or high blood pressure. But we also have people coming into the hospital with unexplainable heart disease. To me, that's the most fascinating part of cardiology—the unexpected patients and the unanswered questions. The Courtois Program comes from that idea—to understand who is going to develop heart disease beyond those with obvious risk factors. We're collecting many, many datapoints so we can create artificial intelligence algorithms to try to predict heart disease before it develops.
MUHCF: What are your hopes for the next 10 years of your career?
NG: I want to make sure we can continue to innovate and create more personalized patient care. With the machine learning and AI algorithms from the Courtois Program, I think we'll be able to move beyond treating everyone the same way and begin personalizing care.
MUHCF: It sounds like you are incredibly busy. When you get a bit of spare time, how do you like to spend it?
NG: I love to be with my family. I have four wonderful kids who mean the world to me. When I'm not at work, it's all about family. We ski, go sailing and travel. We're very close.
We are proud to honour Dr. Giannetti and the legacy she has already built. We can't wait to see what she accomplishes next.
The MUHC Foundation is raising $50 million to benefit cardiology research and care through its Dream Big. Fix Broken Hearts campaign. Our promise is that, in ten years, Montreal will have the lowest rate of hospitalizations and fewest deaths due to heart disease in Canada. To learn more and to donate, visit www.muhcfoundation.com/dream-big/cardiology/
OncoDrive: personalized genomic care for breast cancer patients