February is heart health month: build awareness & prevent heart disease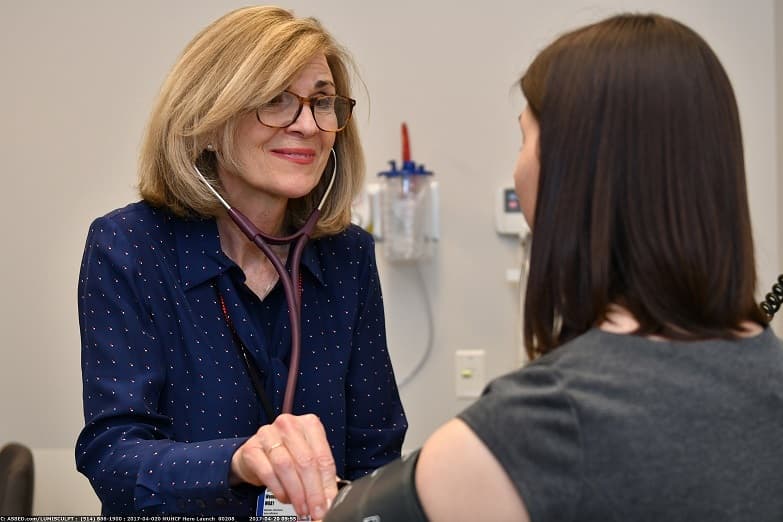 February is Heart Health Month: build awareness & prevent heart disease with the MUHC's Women's Healthy Heart Initiative (WHHI)
Montreal – February 9, 2021 – February is National Heart Month: a time to bring attention to the importance of cardiovascular health, and what we can do to reduce our risk of cardiovascular disease. Heart disease is the leading cause of premature death for women —1 in 3 Canadian women will die from heart disease. The Women's Healthy Heart Initiative's (WHHI) mission is to increase awareness, prevent and treat heart disease. Cardiac nurse Wendy Wray created the WHHI in May 2009 at the MUHC. The WHHI is the first nurse-led heart disease prevention clinic for women in Canada. The initiative focuses on building and maintaining a healthy lifestyle to decrease the risk of heart disease.
Over 1000 women in Montreal have benefited from its preventative model of care to date. Heart disease can be challenging to diagnose in women. Many don't look for the symptoms of heart disease; such as, chest discomfort, shortness of breath or extreme fatigue. They may miss or dismiss these symptoms, delaying or not seeking medical help, potentially putting themselves at even greater risk.
The WHHI is funded 100 per cent through the generosity of donors to the MUHC Foundation. The clinic has had to shift operations using telemedicine and online appointments to see patients. The MUHC Foundation is raising $3-million to support this initiative. Donations to the MUHC Foundation can help this initiative continue to operate and expand their services to prevent more women from getting heart disease.
The WHHI will be leading virtual events for Wear Red Canada Day on Saturday, February 13th, 2021. Wear Red Day is celebrated annually across Canada to raise awareness about women's heart health. Virtual events are being held across the country to serve as a reminder for all Canadians, but especially Canadian women, to be mindful, curious, and proactive in the management of our heart health and wellness.
"Misconceptions still persist that cardiovascular disease is not a 'real problem' for women. The Women's Healthy Heart Initiative is working to change this through education and awareness. This is a preventable disease and we can save lives by making women more aware of the risks as well as the symptoms of heart disease."
-Wendy Wray, Nurse Director of the Women's Healthy Heart Initiative, MUHC
The MUHC Foundation can organize interviews during Heart Month with cardiac-nurse & founder of the WHHI, Wendy Wray. Two patients who both suffered heart attacks and are now grateful patients of the WHHI are also available for interviews.
Dr. Lucy Gilbert has been named to the top women of influence™ for 2021