The Future of Pharmacy: Interdisciplinary and Innovative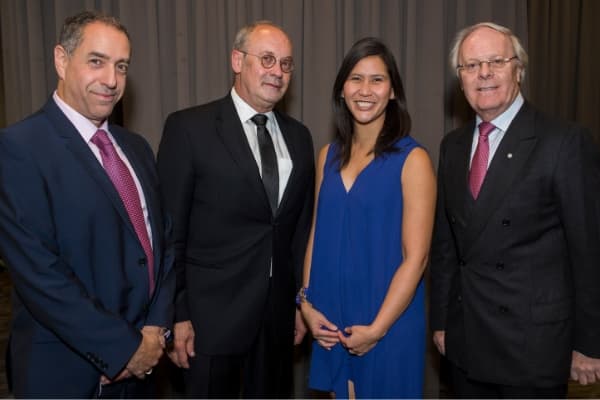 Innovative, dedicated, and patient-oriented: those are just some of the qualities used to describe renown pharmacists Franҫois Schubert and Marie Pineau. Marie was pharmacist-in-chief at the Montreal General Hospital – the first female in the history of the department to hold that position – and Francois held the same position at the Royal Victoria Hospital.
After Marie's death in 2017, Francois wanted to honour his wife's many achievements. Through the McGill University Health Centre Foundation, Francois made a donation of more than $100,000 to establish the Prix d'excellence Marie Pineau et Franҫois Schubert. The prize will be offered annually, for the next 20 years, with $5,000 awarded per year to a group or individual who has developed a project with the goal to innovate practice and procedure in pharmacy at the McGill University Health Centre (MUHC).
"We both had the same passion for pharmacy, the passion for where we were trained, where we met and fell in love, and where we spent the first 15 years of our career. That's why we wanted to give back," Franҫois says.
This year, a committee made up of five professionals – including the current chief of pharmacy at the MUHC, André Bonnici, Director of Professional Services Dr. Ewa Sidorwicz, two pharmacists, and Franҫois Schubert himself – listened to four presentations.
Francois says the goal is to award a person or a team that is motivated and passionate.  The annual award is a tribute to Marie, who Franҫois lovingly describes as "thorough, tenacious, and persuasive. Once she had an idea, she would not let it go."
On October 3, the annual Research Awards Ceremony took place at the Centre Mont-Royal in downtown Montreal. Hosted by the Research Institute of the MUHC (RI-MUHC) and the partner Foundations of the MUHC, close to 100 awards were distributed to some of the hospital's most promising researchers. The MUHC Foundation was proud to recognize 28 researchers for their ongoing work.
This year, two pharmacists were awarded the Prix d'excellence Marie Pineau et Franҫois Schubert for their commitment to not only improving patient care, but also promoting strong collaboration between pharmacists and clinical personnel.
Simplifying allergy testing in the name of efficiency – Gilbert Matte – 2018 Winner
Since 2014, MUHC pharmacist Gilbert Matte has been working to implement best practice in allergy testing and treatment. Based on his experience in the field, Gilbert believes that allergy testing in the hospital setting lacks consistency.
So Gilbert embarked on a journey of reviewing policy, protocol, and pre-defined prescriptions. He collaborated closely with pharmacists, doctors, and nurses across the MUHC. The fruits of his labour are in the numbers, as he has documented an increase in the efficacy of allergy testing at the MUHC allergy clinics and also in the pre-op clinic.
Gilbert's vision includes everything from dosages used in the testing, which symptoms to look for and when, and working with physicians to ensure better communication and documentation of results. The key is standardization, and providing a solid common ground to work from. Gilbert emphasizes that even with standard policies and protocols in place each patient's specific needs must always be considered.
He sees this award as an opportunity to not only be recognized and to continue to propel his vision of collaboration forward, but also to be able to showcase the incredible advancements made by working together in the name of best practice, patient care, and innovation.
Information at your fingertips – Thao Ngo – 2018 Winner
Pediatric patients are a vulnerable population when it comes to the risks associated with medication dose. For Montreal Children's Hospital (MCH) Pharmacist Thao Ngo, the paper-based drug formulary was proving to be cumbersome for hospital staff in their fast-paced, daily environment.
That's why she spearheaded an electronic version of the formulary in 2013. Skip to present day and all clinical personnel now have access to this electronic formulary as an application on their phones.
Thao used existing data for doses and best practice, and worked with the interdisciplinary teams to update the data, and to better reflect the practices and reality of the MUHC and the MCH.
"The availability of the information is lightning quick, can be easily updated, and helps us to provide the best and most personalized care possible to our pediatric patients," she explains.
Education essential to COVID-19 care