RBC Offering Much Needed Comfort to Hospital Workers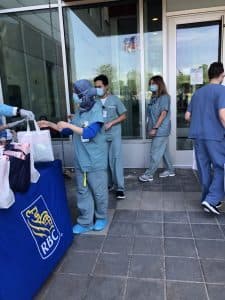 RBC is providing 4,000 family-sized meals and 1,000 room nights to MUHC staff as a gesture of thanks
Staff working at the Glen site of the McGill University Health Centre (MUHC) will receive a complimentary family-size meal from a local caterer courtesy of RBC. In addition, staff from across the MUHC will be offered free room nights at hotels near hospitals as part of a collaboration between RBC and Marriott Bonvoy, Marriott International's travel program.
The gesture of support from RBC in Quebec comes at a time when the hospital's physicians, nurses, researchers, technicians, orderlies, and maintenance staff are confronted by extraordinary challenges due to the COVID-19 pandemic.
Staff receiving a donation of family-sized meals as they exit the Glen site
"We are so proud to serve as a conduit for RBC to show its support for our hospital heroes," notes MUHC Foundation president Julie Quenneville. "Under the leadership of RBC's Quebec President Nadine Renaud-Tinker, this gift not only thanks our frontline workers, but it helps to show our appreciation to their families waiting anxiously at home as well."
The donation of 4,000 family-sized meals will be distributed as staff exit the Glen site, twice a week, over a period of five weeks. RBC and Marriott Bonvoy have collaborated to provide 1,000 room nights at hotels located near the MUHC Glen site. These rooms will be offered through the MUHC as an option for staff who aren't able to be home with their families.
"We are a proud supporter of the MUHC and of the tireless, selfless efforts from our health care workers, who continue to save Canadian lives," says Nadine Renaud-Tinker, Quebec President, RBC. "This is one way for RBC to extend its gratitude to the frontline healthcare professionals keeping us cared for and safe."
The MUHC is a designated COVID-19 hospitalization centre. This designation by the Ministry of Health and Social Services means the hospital accepts the transfer of patients with COVID-19 from other institutions. The MUHC is actively participating in the network effort around Montreal and the western territory of Quebec to provide care during this global health crisis.
"RBC has a long history of supporting our hospital and our community," says MUHC Foundation Chair Norman Steinberg. "This is the latest demonstration of its commitment to stand by Quebecers during difficult times."
Experts From the MCI Help Launch COVID Wards at MUHC Amidst Pandemic