Montreal Investment Firm Steps Up To Feed Health Care Heroes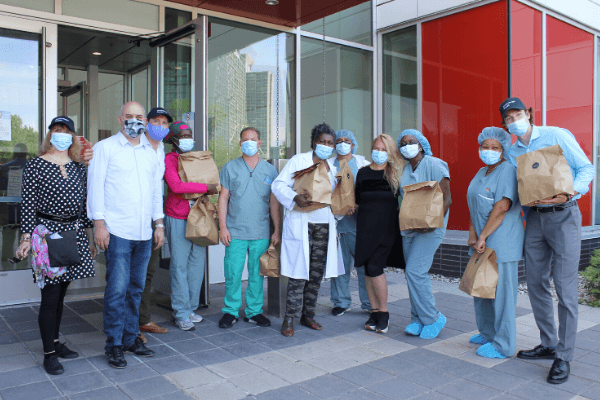 Employees at Jarislowsky Fraser are fundraising to treat 500 essential hospital workers to a warm meal
A group of employees at Montreal-based firm Jarislowsky Fraser came together online to raise funds to support hospital heroes on the front lines of the COVID-19 pandemic at the McGill University Health Centre (MUHC). The group raised $30,000 in a few short weeks to provide a catered meal to hospital workers from some of the hardest hit departments including the ICU, the ER and the COVID-19 floor at the MUHC's Adult Care Glen Site.
Led by Marc-André Nantais, a private wealth portfolio manager, more than 45 employees at the esteemed investment firm took part. Nantais and other employees also rallied their network through social media. He found an enthusiastic collaborator in Jean-Luc Tremblay, a partner at PwC Canada, who led efforts among the firm's partners to contribute generously to the fundraiser.

"I was inspired by community leader Barry Lorenzetti from BFL Canada to do something for our health care heroes. After endless hours working to save lives, we just wanted to give them a break and provide each hero with a delicious dinner, to let them know how much we appreciate their tireless efforts," says Nantais, who usually takes part in a cycling fundraiser for charity at this time of year. When that was cancelled due to the COVID-19 outbreak, he decided to hold a virtual fundraiser in support of health care workers.
Meals were purchased from the Montreal restaurant Hoogan & Beaufort, where top chef Marc-André Jetté also wanted to show health care workers he is appreciative of their efforts during this global health crisis.
Headquartered in Montreal, Jarislowsky Fraser prides itself on an entrenched team culture in investing and decision-making, one which carries over to its commitment to giving back to community.
"This is a challenging time for all of us, but we know our physicians, nurses, technicians and other hospital staff are fighting COVID-19 in a very real way every day," says Jarislowsky, Fraser Limited
"We are so touched by gestures like these from members of our community, and we are happy to be able to support our hospital heroes in this way," says MUHC Foundation President Julie Quenneville.

$ 6M to Fight Ovarian Cancer