Mikaëlaglaë Tunis, Proud Member of the MCI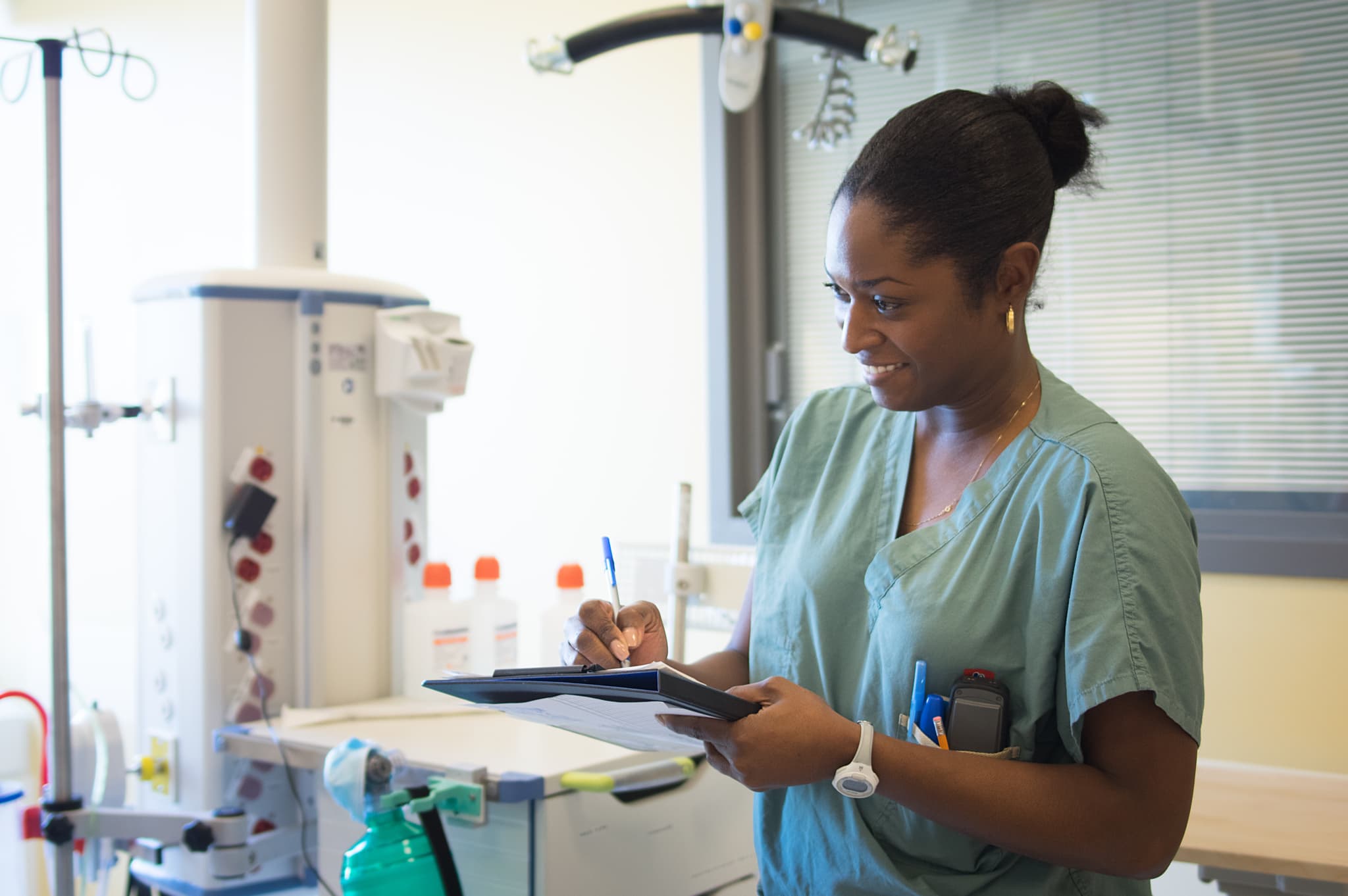 Mikaëlaglaë 'Mikëy' Tunis decided to study respiratory therapy because the profession gave her options. She could work in an operating room, an intensive care unit, a laboratory or as part of a home care team. She chose to work at the Montreal Chest Institute (MCI) of the McGill University Health Centre (MUHC). That was 13 years ago and while she has tried working elsewhere, the MCI keeps calling her home.
She explains the roles and responsibilities of a respiratory therapist (RT) are continuously expanding and evolving. In addition, she says, new medical technologies make the profession endlessly interesting and engaging.
"The MCI is a McGill University teaching hospital which means we are always looking for innovative ways to enhance patient care to improve quality of life," Mikëy says. The MCI recently started to perform endobronchial ultrasounds (EBUS), a minimally invasive but highly effective procedure used to diagnose lung cancer, infections, and other diseases of the lungs. "As an RT, we assist the physician during these procedures. EBUS is relatively new and we are at the forefront of this major medical advance. It's amazing!"
She talks about how the MCI values team work. While planning a patient's care in the Intensive Care Unit, every member of the team (physicians, nurses, physiotherapists, occupational therapists, dieticians, social workers and respiratory therapists) weighs in and all opinions are sought and considered because the ultimate goal is to help patients breathe on their own without the help of any equipment.
HELPING PATIENTS ENJOY THEIR BEST LIVES
Mikëy tells the story of a 24-year-old man who arrived at the MCI from another hospital. He had been intubated to keep his airway open and had a tracheostomy (tube entering through a hole in his throat) to help him breathe.

"This young man hadn't spoken a single word in over three months. On his first day at the MCI, we placed a Passy-Muir valve, a simple device that helps patients to speak despite having a tracheostomy tube. We then prompted him to test his voice. He started to talk and then started to cry. Here was a 24-year-old man crying after we did a simple procedure! When he phoned his sister she was in shock," recalls Mikëy. "This is just a tiny example of our team's expertise. Being able to help that patient was amazing. It gives me goose bumps just talking about it."
"We really take the MUHC's slogan Best Care for Life to heart and try to help our patients every day. Life isn't over because you're on a ventilator. By doing some easy well-thought-out interventions, an RT can increase a patient's well-being and comfort. Many of these interventions are specialized at the MCI, which adds to the gift of being part of this team. We always strive to find ways to make things better for those in our care. This is why I just love working at the MCI!"