MI4 Is Working To Solve Humanity's Deadliest Puzzles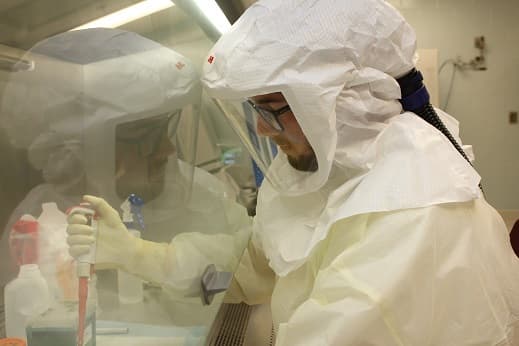 A team of leading Montreal-area researchers are sounding the alarm, warning us that we, as a society, are facing an apocalypse. It's not the kind we would expect or see featured in the latest summer blockbuster. Ours comes in the form of a sick patient with an IV in her arm. She's having one antibiotic after another pumped into her veins, but to no avail. This patient will not get the transplant she needs to survive because she is resistant to antibiotics and can't fight the infection ravaging her body.
Unfortunately, she is not an exception but a warning; none of us will have the lifesaving care we need if we can't fight the bugs.
Infections are the second-most common cause of death worldwide. They kill 8.7 million people each year, and are responsible for two-thirds of deaths in children under five. The astounding gains humanity has made since the discovery of antibiotics in the 1930s are now a distant memory.
A researcher works in a lab to develop innovative solutions for the infectious and immune challenges facing our society.
Antibiotics have been needlessly over-prescribed for too long, giving germs more opportunities to evolve around our defenses. Then, when they do, we need new antibiotics. However, it takes decades and billions of dollars to develop these new drugs, and only six years for germs to build up resistance. Bugs evolve faster that we can invent antibiotics, and investment in new antibiotics has declined – they are just not as profitable as other drugs.
When antibiotics fail, pandemics occur. Even in developed nations, without antibiotics everything from organ transplants, heart surgery and cancer treatment to routine surgeries like caesarean sections and appendix removal become high-risk. Experts in immunology and infection are working on strategies the bugs can't evolve around. They know that they need to accelerate research and usher breakthroughs into practice. The McGill Interdisciplinary Initiative in Infection and Immunity (MI4) is leading this effort, working to move beyond antibiotics for a long-term solution.
MI4 brings together over 250 researchers to develop innovative solutions for the infectious and immune challenges facing our society, and translate these discoveries from the laboratory to the bedside. Problem-focused and impact-oriented, MI4 already has exciting projects underway to "hack the immune system" to fight disease, eliminate TB and Hepatitis C transmission in vulnerable communities, and develop inexpensive, flexible point-of-care tools to rapidly diagnose infection in the home, the clinic and the field. And this is just the beginning of what MI4 can do.
"We can actually not exaggerate when we say it's one of the greatest threats to human health we're facing right now." explains Dr. Don Sheppard, Director of MI4 and a Professor in the Departments of Medicine, Microbiology and Immunology at McGill. "What we don't realize is that all of modern medicine, whether we're talking about heart surgery, replacing joints, cancer chemotherapy, it's all based on controlling infections. If we can't control those infections, then all of those advances in modern medicine, they're for naught."
MI4 is creating innovative hubs where biomedical researchers work with engineers and entrepreneurs, where sociologists collaborate with physicians and policy experts. Collaboration is key because they believe the answers that we need do not emerge from one discipline alone. Dr. Marcel Behr and Dr. Marie Hudson are Co-Directors of MI4, with the former having a focus on infectious disease and the latter prioritizing immunity. Under their leadership, this exciting effort is bringing together researchers from McGill, the McGill University Health Centre (MUHC), the Jewish General Hospital and their affiliated research centres.
MI4 clinician-scientists are trying to address this growing crisis with creative solutions, including harnessing the microbiome. They now know that our vastly complex and exquisitely balanced microbiome — or gut bacteria — plays a far bigger role in health than once imagined. These innovative scientists are unraveling how these bacteria are implicated in dozens of diseases; they are exploring how to harness them against invasive pathogens; and how to re-establish a healthy microbiome from a stored sample.
"If nothing changes, the bugs will win," warns Sheppard. "So we're working on strategies the bugs can't evolve around."
The team is also looking to nature to help fight off infections. A McGill engineer has discovered why dragonfly wings, made largely from sugar, don't succumb to bacteria. Sub-microscopic spikes on the wing surface impale and kill germs. One MI4 group is even developing a similar silicon-based surface to coat artificial joints. All the power of antibiotics, but none of the risks. They are also discovering new antibiotics where few have thought to look — in Canada's Far North.
MI4 was established last year thanks to an incredible $15 million gift from the Doggone Foundation, a visionary Montreal-based foundation with an interest in funding health care and research in Canada. The late Elspeth McConnell, a former Montreal journalist, founded the Doggone Foundation in 2011. Her philanthropic efforts have included generous support over the years to the MUHC.
The MUHC Foundation has launched a $40 million fundraising campaign in support of MI4.
"We are incredibly grateful for the Doggone Foundation's outstanding generosity and for sharing in our vision of transforming the future of global health," says MUHC Foundation President Julie Quenneville. "We now turn to other philanthropic leaders in Montreal for their support in tackling some of the largest health challenges facing our world today."
Raising Money and Inspiring Tomorrow's Changemakers