MCI and MUHC Foundations Join Forces To Help Montrealers Breathe Easier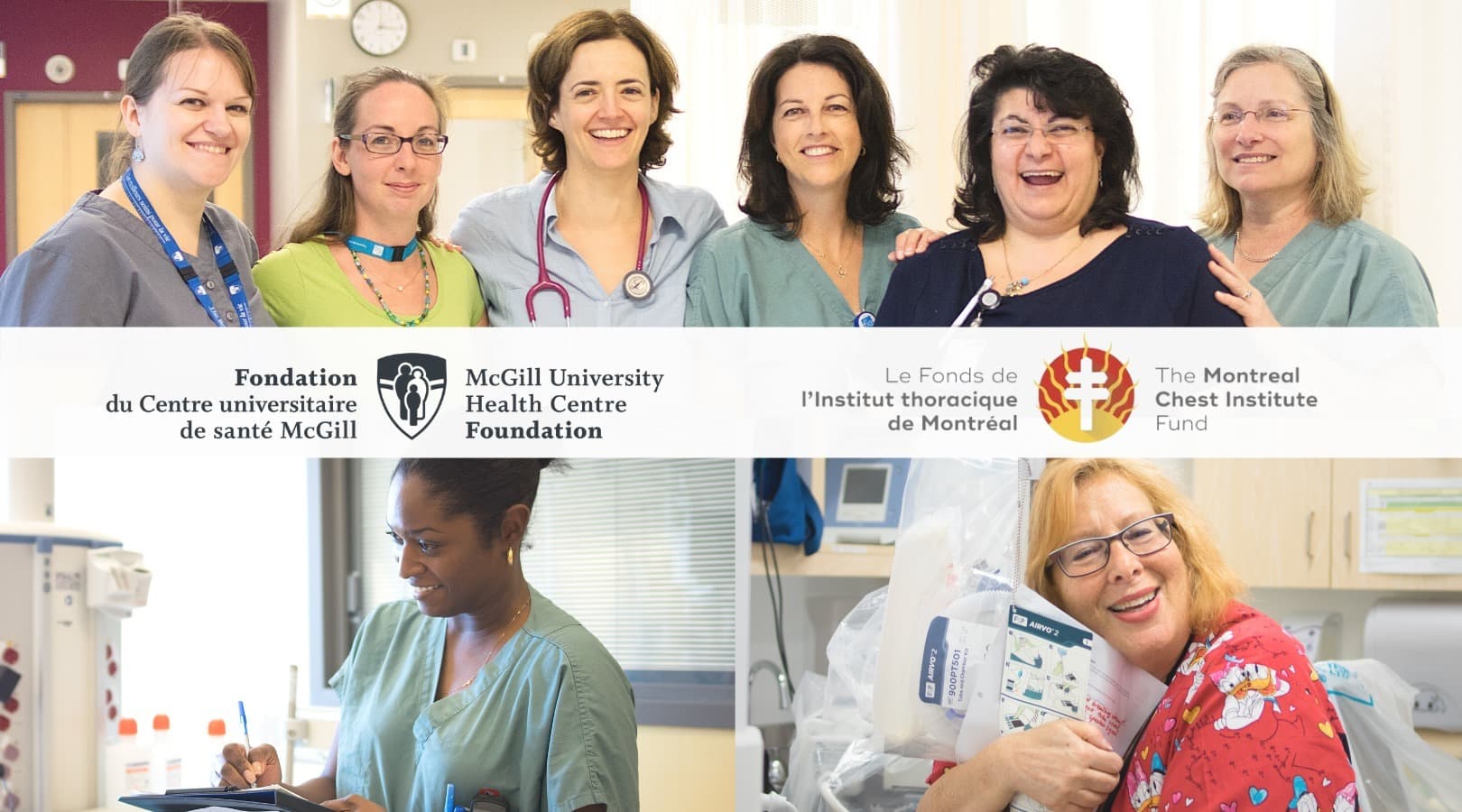 The merger and a new $10 million campaign will support new innovation in respiratory medicine
For nearly sixty years, the Montreal Chest Institute (MCI) Foundation has played a vital role in raising much-needed funds to help patients living with complex and chronic respiratory conditions breathe easier and live longer. On April 1, 2021, the MCI Foundation officially merged with the McGill University Health Centre (MUHC) Foundation and is poised to take a big step forward in helping more respiratory patients at the MUHC, in Montreal, and across Quebec.
Together, under the MUHC Foundation banner, the foundations will have an even bigger impact on patients. The building of a new MCI Fund of the MUHC Foundation will ensure the MCI continues to flourish and play a global leadership role in respiratory care, teaching and research. This merger will allow the MCI to elevate its clinical care and scientific research to make Montreal a global hub for respiratory care.
"This merger will result in more funds raised to meet the urgent needs of the MCI," says Bryan Fitzpatrick, Chair, MCI Board of Directors. "During the COVID-19 pandemic, the importance of being equipped to treat respiratory disease is more apparent than ever."
Over three million Canadians live with a respiratory disease. For many of them, every breath is a struggle, every task a challenge. Since 1909, the MCI has been providing highly specialized care for Quebec adults living with asthma, cystic fibrosis, chronic obstructive pulmonary disease (COPD), lung cancer and other respiratory diseases. Through donations to the MCI Fund of the MUHC Foundation the MCI will continue to provide the very best care to these patients.
One of the first initiatives following this merger is a transformative $10 million fundraising campaign to benefit the MCI, part of the MUHC Foundation's Dream Big Campaign to change the course of lives and medicine. The Dream Big. Breathe Easier campaign will focus on investing in breathtaking research and breath-giving care:
BREATHTAKING RESEARCH
Research Innovation Grants will provide critical funds to scientists with big dreams for the future of respiratory medicine. Few granting agencies fund innovation, and this seed funding gives our experts the opportunity to prove new concepts, then leverage initial study findings into substantial grants.
A respiratory clinical trials program at the Research Institute of the MUHC (RI-MUHC) will provide the infrastructure, equipment and expertise to carry out clinical trials of the latest treatments for respiratory disease.
BREATH-GIVING CARE
We will usher in personalized medicine through improved diagnostics, updated equipment, talented physicians and personnel, and improved programs.
A home monitoring program will allow physicians to monitor patient symptoms while they are at home, helping them predict and prevent lung attacks—sudden flare-ups of lung disease that causes difficulty breathing—before they happen.
Through these pillars, the MCI's respiratory specialists will take complex lung problems from bedside to research bench and back again to better understand why lung attacks—which can be as serious and life-threatening as heart attacks—happen and to develop prevention and treatment strategies personalized to each patient.
For more information on the MCI Fund of the MUHC Foundation, the Dream Big Campaign and more, visit muhcfoundation.com/about-us/mci-fund.
Photo caption: Montreal Chest Institute staff, left to right: Pauline Machon, RN; Elodie Viau, RN; Dr. Anne Gonzalez, physician, Division of Respiratory Medicine; Lucie Goulet, Respiratory Therapist; Kelly Kordatzakis, Unit Coordinator; Pascale Girard, Respiratory Therapist.
Legge Orr Family Donates $1M to MI4