COVID-19 Inspired This Medical Student To Run for a Reason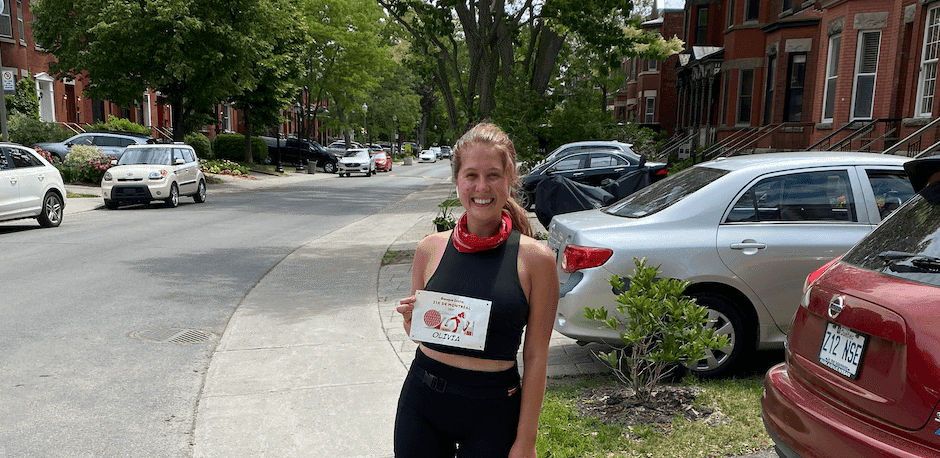 Olivia Ganescu ran a half marathon and fundraised to support the MUHC Transplant & Organ Donation Service
Olivia Ganescu has always led an active life, but was not a runner prior to the pandemic.  When her medical school training program was shut down due to COVID-19, Ganescu needed to find an outlet.
"I started running and getting better. Then I started doing virtual runs," said Ganescu. "I realized if I could do these runs for myself, an even bigger feat would be to do it for something bigger than myself."
The 25-year-old registered for the annual Scotiabank Charity Challenge race, this year held from April 23 to June 14. She chose to run a half-marathon and fundraise in support of the MUHC Foundation for the MUHC Transplant & Organ Donation Service. During her final year of medical school at McGill University, she completed rotations in the Transplant Surgery Service. Ganescu learned how important it is for everyone to reflect on organ donation and discuss it with their families. Her experiences inspired her to give back.
"From the patient population to the physicians, the surgeons, the nurses, the transplant coordinators—the entire program is a source of inspiration for me. This program has done so much for me as a medical student; I wanted to give back through the MUHC Foundation. The transplant service is where it all started and that pushed me to finish the half marathon," said Ganescu.
Ganescu had some top physicians from the MUHC supporting her goal. Dr. Nadia Giannetti, Dr. Jeffrey Barkun, Dr. Steven Paraskevas and several others all donated in support of her run and fundraising goal. Olivia raised $6,206.62 for the MUHC Foundation. Dr. Paraskevas taught Olivia twice on the Transplant Surgery Service at the MUHC. He praised her enthusiasm as one of only three General Surgery residents accepted to McGill this year.
"It's rare to have your students give back to your work in such tangible ways. Olivia showed her enthusiasm for the transplant program during her two rotations, and in yet another way, fundraising for the MUHC Multi-Organ Transplant Database," said Dr. Paraskevas. "This resource is vital to the transplant program, helping clinicians keep track of patient outcomes, and allowing us to conduct research to improve the way we deliver care to organ recipients. We are all extremely grateful for Olivia's efforts, both in the hospital and outside it."
Olivia begins her General Surgery residency at the MUHC this July. She remains interested in continuing transplant surgery in the medical field, but is looking forward to continuing her training before deciding on a speciality.
"General surgery is a good starting point. I would like to start my training and see what feels right in terms of specialties. Right now, everything excites me and that is how a new resident should feel: ready to take on all the possibilities."
A total of19 participants ran for a reason in support of the MUHC Foundation. Our teams ran 437 kms and raised a total of $23,836.62 in support of special projects and departments at the MUHC. Thank you Olivia and all of the participants!
If you are inspired to give back like Olivia, you can still fundraise for a cause that matters most to you by creating a Personal Fundraising Page. Learn more: https://muhcfoundation.com/ways-to-give/personal-fundraising
TELUS Helps Combat Isolation in Hospitalized Patients