A Gift In Honour of A Beloved Wife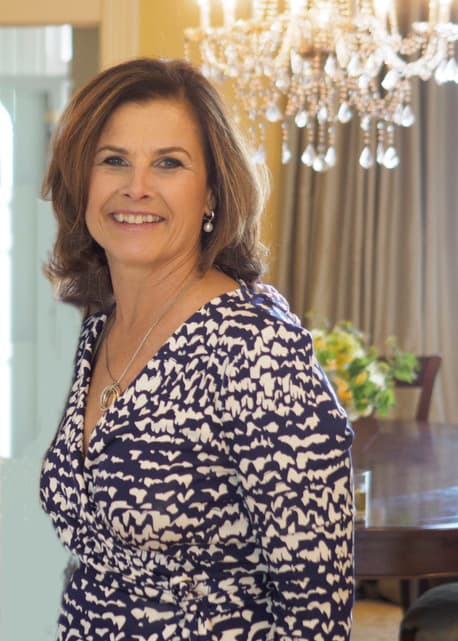 Georges Morin learned how fragile life is the hard way. After 37 years of marriage, he lost his wife, Anne Robert, to ovarian cancer in just five months.
It's a story we hear often: women learning of their ovarian cancer diagnosis too late. Anne was one of these women.
Anne was active and adventurous. She loved to golf, ski and entertain. She once rode her bicycle to New York with a group of friends, and she loved to travel.
"She was full of joie de vivre," says Georges.
Georges and Anne met at her sister's wedding in 1979. Each attended the wedding with a different partner, but they obviously left an impression on each other.
"Two months later, her sister said 'why don't you come for supper?' says Georges. "We had supper and I proposed three months later. And we got married six months later."
The pair had two children and spent many happy years together. In the summer of 2016, Anne began to experience health problems. She visited her doctor and her gynecologist, but neither gave her a proper diagnosis. It wasn't until October that she received news that no one wants to hear: she had advanced ovarian cancer.
Anne was treated by gynecologic oncologists Dr. Lucy Gilbert, Dr. Xing Zeng, the late Dr. Kris Jardon and nurse Joelle Malek at the McGill University Health Centre (MUHC). Despite a hysterectomy, chemotherapy and experimental drugs, nothing seemed to help. The cancer spread throughout her abdomen and she had to be hospitalized. Just five months after her diagnosis, on March 21, 2017, Anne passed away.
"After months of suffering and once her medical team had exhausted all treatment options, Anne asked to go to palliative care and that was it. Five months was all it took," says Georges.
Determined to secure a legacy for Anne, and to ensure fewer women lose their lives to ovarian cancer, Georges decided to donate in support of Dr. Gilbert and her team's work to detect ovarian cancer early. He donated $100,000 to the Detecting Ovarian and Endometrial Cancers Early (DOvEE) project.
"I said to myself, 'why should I wait to give the money when I die? Why shouldn't I give it now?'" says Georges. "I want to help research go quicker and most importantly help women get lifesaving tests and exams that will detect early-stage cancers. My wife didn't have that privilege."
A room at the MUHC will be named in Anne's memory. Georges chose the meeting room where the oncology team reviews patient cases and decides on treatments. He hopes that this room will bring different outcomes to other women and their families undergoing gynecological cancer treatments at the MUHC.
"For 76 continuous days, I was by my wife's beside at the MUHC. I saw Dr. Gilbert and her team day in and day out trying to pinpoint the treatment that would reverse Anne's cancer, while also supporting Anne, and all of us frankly, with empathy and care. The meeting room named after Anne is a meaningful place for Dr. Gilbert's team as they work tirelessly to save the lives of their patients," says Georges.
Anne has now been gone for five years, and her passing taught Georges how important it is to seize the life you have.
"When something like this happens, and so quickly—Anne went from winning golf tournaments to five months later being gone—you say to yourself 'we hang by a string,'" says Georges.
Realizing that his health or his life could be taken away as quickly as Anne's was, Georges began to travel often. He visits his three grandchildren in Paris every three months, and even travelled to Antarctica.
"I have a very, very long list of things I want to do. I'm lucky I have the means and the time to do them," says Georges.
With Anne's adventurous and caring spirit in mind, Georges is spending as much time as possible with family and exploring the world.
You can help Stop the Silent Killer, ovarian cancer, by donating to the DOvEE project. Your gift will support the final clinical trial of the DOvEEgene test, an early diagnostic test for ovarian and endometrial cancers that will ensure fewer stories like Anne's. To learn more and to donate, visit https://muhcfoundation.com/dream-big/cancer/dovee/
A Grandfather With a Grand Plan