Pomerleau and the MUHC Foundation work toward revolutionizing cancer care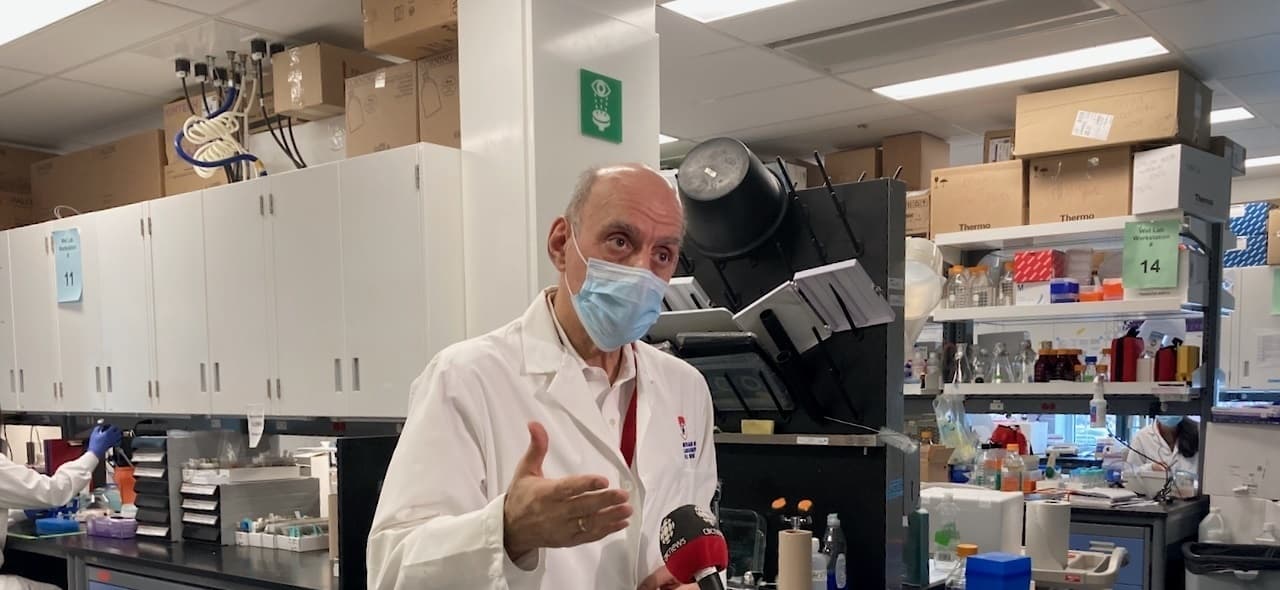 Pomerleau and the MUHC Foundation work toward revolutionizing cancer care across Canada
Montreal, June 28, 2021 —Pomerleau, one of Canada's leading construction companies, is joining forces with the McGill University Health Centre (MUHC) Foundation to support a groundbreaking cancer project. With a $250,000 donation over five years,  Pomerleau is supporting research led by Dr. Peter Metrakos, Cancer Research Program Lead at the Research Institute of the McGill University Health Centre (RI-MUHC). Using local engineering expertise in artificial intelligence, Metrokos' work will significantly improve survival rates of patients diagnosed with stage IV colorectal cancer.
Colorectal cancer is the second leading cause of cancer death in Canadians and is responsible for more deaths than breast cancer or prostate cancer. Stage IV colorectal cancer is incredibly deadly, with a five-year survival rate of only 12 per cent.
"Pomerleau has had a long-standing collaboration with the MUHC that began with building the MUHC Research Institute and then evolved into a philanthropic affiliation. Like the MUHC, we value innovation, transformation and excellence and aspire to have a positive impact on the lives of the people we serve. We are proud to continue our partnership and support the kind of life-changing research that will save and improve countless lives."

 Pierre Pomerleau, President & CEO, Pomerleau
Using liquid biopsy techniques, Drs. Metrakos and Lazaris, with their team will help separate DNA, RNA, proteins and other constituent parts of the blood, to identify the ones associated with a patient's cancer. Artificial intelligence (AI) will be used to identify patterns and insights into the data gathered from each patient's blood sample. These patterns will then be used to create a test that will predict outcomes, providing a critical key to personalized treatment and improved survival.
"Our goal is to understand each individual's cancer so we can provide precise and personalized treatment. Having support from Quebec industry means we can make these treatments a reality."

Dr. Peter Metrakos, Cancer Research Program Lead, RI-MUHC
Quebec continues to be a leader in the field of artificial intelligence applied in health care and Dr. Metrakos' work will drive innovation for years to come. With over 26,000 Canadians diagnosed with colorectal cancers each year, this project has the potential to affect millions of lives, from the patients going through cancer treatment to their families, friends, and colleagues.
"Pomerleau's donation enables research done here in Quebec to impact patients and their families right across the country. We are grateful to be collaborating with a respected, forward-thinking company and for their confidence in medical innovations like this one."

Julie Quenneville, President & CEO, MUHC Foundation
MEDTEQ+, funded by the Ministère de l'Économie et de l'Innovation, is providing matching funds for industry investment and donations. This process enables donor funds to leverage their philanthropic support and impact.
Emergency Return To India