Montreal brothers support new clinical trial to help prevent severe Covid-19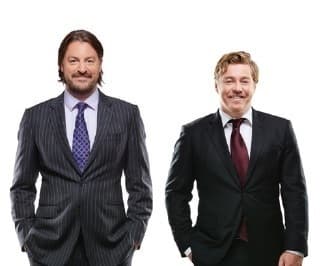 Montreal Brothers Support New Clinical Trial to Help Prevent Severe COVID-19
Joseph and Nick Bakish donate $75,000 to help launch patient recruitment for Canada's PULM-001 Phase III trial
Montreal June 4, 2021
Brothers Joseph and Nick Bakish are taking a leadership role in helping the course of the global pandemic, with a focus on developing countries that have had little access to vaccines. They come from a family of scientists and physicians and are committed to giving back to health care professionals.
Having built the successful financial services practice Bakish Wealth at Richardson Wealth Ltd, the brothers are passionate about impact investing and are leading the way by contributing $75,000 to the McGill University Health Centre (MUHC) Foundation to kick start the Phase III clinical trial for a repurposed medication, PULM-001.
PULM-001 is a decades-old, safe and affordable oral antibacterial drug that has well-recognized anti-inflammatory properties. It has been used to treat malaria, lupus, HIV and many other inflammatory infections. The repurposed drug will be administered to symptomatic adults recovering at home to lessen lung inflammation. This inflammation causes complications in the lungs that can lead to increased hospital and ICU stays, and even death. The drug is expected to prevent severe COVID-19 by blocking the inflammatory response.
The clinical trial, led by the Research Institute of the McGill University Health Centre (RI-MUHC) and Canadian start-up Pulmonem, will test the use of PULM-001 in patients in the early stages of COVID-19. This is one of very few phase III clinical trials for COVID therapies to obtain the approval from both the U.S. Food and Drug Administration (FDA) and Health Canada.
"This is a unique opportunity to invest in a safe and affordable treatment that can prevent thousands from getting severely ill with COVID-19. My brother Nick and I believe deeply in what can be achieved through research and innovation. We are proud to contribute to the MUHC Foundation to launch this next step in a ground-breaking clinical trial."

– Joseph Bakish, Director, Wealth Management, Portfolio Manager, Investment Advisor of Bakish Wealth at Richardson Wealth Ltd.
The MUHC Foundation is raising $5 million to support the costs of the global trial. To date, one million dollars has been raised through donations and investments. Patient recruitment for the trail begins June 14, 2021 in Quebec and Ontario.
"We are offering donors and investors the opportunity to help bring to market a low-cost medication to prevent severe COVID-19. We have the opportunity to partner to help developing countries save lives and reopen their communities. Impact investing gives us the power to change the course of lives and medicine."

 –Julie Quenneville, President & CEO, MUHC Foundation
The trial will be conducted entirely remotely in Ontario and Quebec in Canada, as well as six centres in the United States. Thousands of symptomatic (COVID-19 positive) outpatients will be involved in the trial led by Dr. Jean Bourbeau, a senior investigator and Director of the McConnell Centre of Innovative Medicine at the Reseach Institute of the McGill University Health Centre (RI-MUHC).
Young woman's wish granted by generous donors