Beloved breast cancer surgeon shaves his head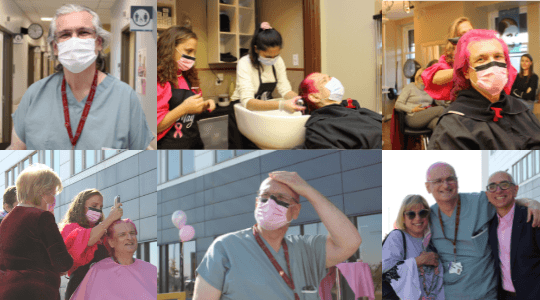 Dr. Sarkis Meterissian raises more than $307,000 in support of the Mcgill University Health Centre's Breast Clinic
November 1, 2021ー Surgical oncologist, Dr. Sarkis Meterissian shaved his head in support of his breast cancer patients. The emotional gesture drew cheers from patients, health care workers as well as the fundraising force of the MUHC Foundation that helped him surpass his goal. As Director of the Breast Clinic at the McGill University Health Centre (MUHC) Dr. Meterissian was determined to ensure the Breast Clinic Wellness Program remained open and available for all MUHC breast cancer patients.
"There is a very special and profound relationship that develops between a patient and their surgical oncologist. I did this for my patients: they are just so resilient and so tough in the face of adversity that it's wonderful to watch. In honour of them, I shaved my head and raised money for all the services we provide for the patients."

–Dr. Sarkis Meterissian, Surgical oncologist and the Director of the MUHC's Breast Cancer Clinic
Dr. Meterissian initially pledged to raise $50,000 in association with Pink in the City's Raise Craze. Thanks to a generous community, and several generous supporters including Pfizer, AstraZeneca and Gilead, Dr. Meterissian increased his fundraising goal twice. The Avon Foundation for Women Canada was also committed to Dr. Meterissian's cause, matching all donations up to $100,000, which brought the final tally to $307,000.
"The Avon Foundation for Women Canada heard about the MUHC's Breast Clinic Wellness Program and Dr. Meterissian's dedication to his breast cancer patients that we knew we had to support the cause. Everyone knows someone who has been touched by breast cancer.This program allows patients to have the support they need through their breast cancer journeys."

–Roberta Lacey, President, Avon Foundation for Women Canada
The Breast Clinic's Wellness Program was created to ensure every breast cancer patient receives the care they need —during and after treatment— to return to happy, healthy lives. The Wellness Program is completely donor funded and offers a variety of free resources including access to kinesiotherapists, psychologists, sex therapists, and nutritionists.
"We are so lucky at the MUHC to have physicians like Dr. Meterissian, who went above and beyond to ensure the well-being of his patients. The incredible impact of his fundraising campaign will be felt for years to come and support thousands of women as they face breast cancer. Thank you to our dedicated community for supporting this important campaign."

–Julie Quenneville, President & CEO, MUHC Foundation
Dr. Meterissian shaved his head on October 20, 2021 during Breast Cancer Awareness Month in an outdoor event at the MUHC. Raise Craze is a yearly-campaign that focuses on volunteers who fundraise, then shave their heads in support of breast cancer patients. All donations from Dr. Meterissian's fundraiser benefit the Breast Clinic's Wellness Program at the MUHC. The $307,000 raised will fund the program for two years.
To learn more: https://muhcf.akaraisin.com/ui/raisecraze2021
A Sleek New Look For Dr. Sarkis Meterissian