Years-long mystery illness comes to light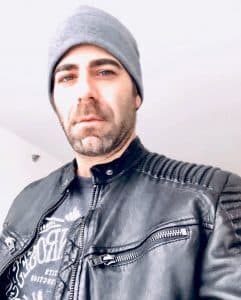 David Ray's life changed the day the dog bit him.
"It was Christmas Eve. I was playing with my brother's dog, and I unthinkingly put my hand in his mouth. He bit down, and it was a bad bite," says Ray.
Ray cleaned up the wound and didn't think much of it. Weeks later, it began to swell until his finger was nearly unusable. An x-ray revealed it was full of fluid, and Ray was put on a heavy course of antibiotics that lasted months. The infection cleared up, and again he thought he was fine.
"I was fine for six or seven months. Then my whole body shut down."
Ray suffered strep throat, double ear infections and conjunctivitis. He experienced brain fog. His physical appearance began to change as his face swelled beneath his eyes and mouth.
"I didn't feel right. I didn't look right. I was not acting myself."
Plagued with a range of physical and neurological symptoms, Ray sought medical help. To his dismay, his doctor did not believe anything was wrong, attributing his symptoms to the course of antibiotics he had finished months before.
"I know my own body, and I knew something was not right," says Ray. "I began to advocate for myself in the medical system, searching for a doctor who could tell me what was wrong."
Ray's journey of self-advocacy was a long one. For four years, he saw doctor after doctor, and received numerous misdiagnoses. He even tried private clinics and consulted with physicians from the United States. Ray suspected he might have a parasite, but few of the medical professionals he saw agreed with him.
"So many doctors just did not listen," says Ray. "I was emotionally spent."
Then, Ray met parasitic disease expert Dr. Momar Ndao and the team at the McGill University Health Centre (MUHC) Tropical Disease Clinic.
"The first conversation we had, we talked in general about parasites. He told me all about his studies and his home country, Senegal. He spoke about his mother, who passed away of river blindness. We immediately built rapport through talking about parasites."
After meeting Dr. Ndao, Ray knew he was in good hands, and that he would finally receive the help he had been desperately seeking. With the help of Dr. Ndao and colleagues Dr. Sapha Barkadi, Dr. Salim Rashed and Dr. Donald Vinh, Ray received the tests that confirmed what he has suspected all along: he had a parasitic infection.
Ray was elated. Not only did he have a diagnosis and could now receive treatment, but someone had believed him. His years of advocating for his own health finally led to answers, and he knew he had been right to listen to his body.
"What struck me about Dr. Ndao was his passion," says Ray. "He spoke to me like I was a human being, and he truly listened when I spoke."
Today, David Ray is on the mend. Though he continues to undergo treatment, he ha a positive outlook on life that was long absent.
"I am confident that the end of this story will be a positive one," he says.
Throughout his illness, Ray could not work. Now, he is ready to reinvent himself and find a way to care for others the way his MUHC doctors are caring for him. His first project is about giving back to the team at the Tropical Disease Clinic. Ray is launching a personal fundraising campaign through the MUHC Foundation to help purchase equipment and fund research that will ensure no one else goes through what he did.
"This could happen to anyone," says Ray. "Most general practitioners are not aware of and do not test for parasitic diseases. I met a team of doctors who listened to me. I want to do whatever I can to help Dr. Ndao and his team to raise money to continue helping people."
Grateful for his diagnosis and ongoing care, Ray is raising $80,000 to support Dr. Ndao's work.
"I want to thank Dr. Ndao, Dr. Barkadi, Dr. Rashed, Dr. Vinh, and Nadia, the receptionist, for their wonderful care," says Ray. "What better way than to help them help more people?"
Dr. Momar Ndao is a world-renowned parasitic disease expert. Originally from Senegal, he became passionate about helping those afflicted by parasitic diseases after his mother died of river blindness. Today, in his lab at the MUHC, he diagnoses patients from around the world. Like David Ray, many are desperately seeking answers for their unexplained illness.
David Ray's fundraising efforts will help Dr. Ndao purchase state-of-the-art equipment that will assist him with diagnosis and patient care, as well as help him conduct research on parasitic diseases from Lyme to Chagas to toxoplasmosis.
Support David Ray in his efforts to raise funds for the important work of Dr. Momar Ndao.
Montreal Investment Firm Steps Up To Feed Health Care Heroes