TELUS Helps Combat Isolation in Hospitalized Patients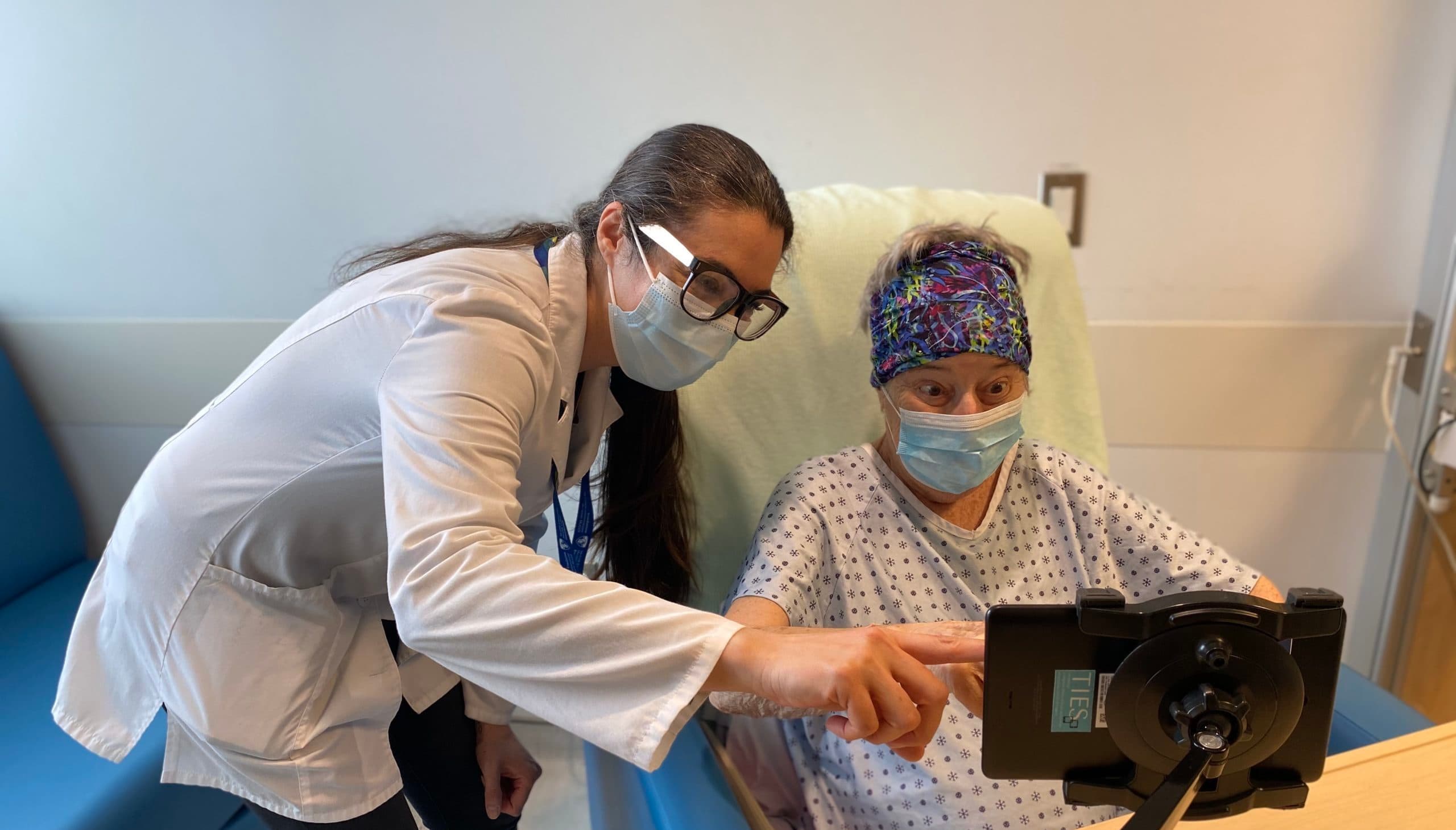 A gift from TELUS CEO Darren Entwistle allowed Dr. Inés Colmegna to study how video calling can alleviate loneliness in hospitalized patients
When the first wave of the pandemic began in Spring 2020, we were all filled with fear and uncertainty. For COVID-19 patients and other hospitalized individuals, that fear was amplified by the isolation and loneliness they experienced while in hospital. Strict COVID-19 protocols and the danger of outbreaks meant that visitors were not permitted at any hospitals in Montreal. These rules were put in place with good reason, but what they failed to consider was the negative mental health effects of isolating someone in their hospital bed.
TELUS CEO Darren Entwistle saw the need to support health care workers and, by extension, those vulnerable citizens who needed assistance the most. He demonstrated his commitment by foregoing 25% of his 2020 base salary and redirecting it to support meaningful projects that could have immediate and impactful results. The Entwistle Family Foundation even matched a portion of the salary. His gift supported an important project at the McGill University Health Centre (MUHC) to help combat loneliness in hospitalized patients.
Mr. Entwistle's generous gift of $100,000 helped fund the work of physician-scientists Dr. Inés Colmegna and Dr. Amal Bessisow, and computer scientist Dr. David Meger to combat isolation in hospitalized patients. The researchers provided tablets to hospitalized patients—particularly those who were not familiar with technology—and taught them to initiate video calls with loved ones at home. Not only did this help alleviate loneliness in many patients, but also allowed the researchers to measure just how effective video calling is at combatting the negative effects isolation and loneliness can have on mental health.
"Nearly half of our participants have either never used a tablet or did not feel comfortable using a tablet before entering the study," says Dr. Colmegna. "Despite this, nearly all of them were able to establish communication with their loved ones using the tablet."
Eighty-three per cent of participants reported that the tablet helped them communicate with their family, and many described the positive experience of being able to connect with loved ones at home. Study participants connected with their spouses, children and grandchildren, helping them feel part of family life even when hospitalized.
"I would definitely use [a tablet] in the future," says study participant Marie T. "My husband calls me while he is in the kitchen and I tell him what to cook. The interaction is so much better than a phone call, and it's comforting. With the COVID measures he is able to stay home, call and it feels that he is here."
Overall, the study highlighted the need for human connection for hospitalized patients, particularly during a health crisis like COVID-19, and demonstrated that using a tablet helped many patients feel less alone during such a difficult time.
"A wonderful project and a good companion," says Francine M., who participated in the study.
Dr. Colmegna and her team are now completing further analysis to determine whether video calls reduced the negative mental health effects of isolation overall for the MUHC's patients. The study's findings will inform future strategies for the emotional wellbeing of patients isolated due to COVID-19, severe immunodeficiency and transmissible infections.
"We are grateful to Mr. Entwistle and to TELUS for their generosity," says Julie Quenneville, President and CEO of the MUHC Foundation. "They saw beyond the urgency of preventing COVID-19 transmission to consider the emotional wellbeing of the patients facing the disease alone in hospital. Dr. Colmegna's study is an important step toward preserving the mental health of isolated patients."
While the pandemic will eventually end, the information we gather from this important study will continue to benefit patients for years to come.
Shawnea's Journey to Better Health